An homage to the luxury New York lifestyle brand, SUNO for Anthropologie is one of our most exciting collaborations to date.
From colourful couches and chairs that seamlessly blend the feminine and contemporary, to dinnerware and bedding inflected with an artistic touch, SUNO for Anthropologie is a celebration of the endless potential of print.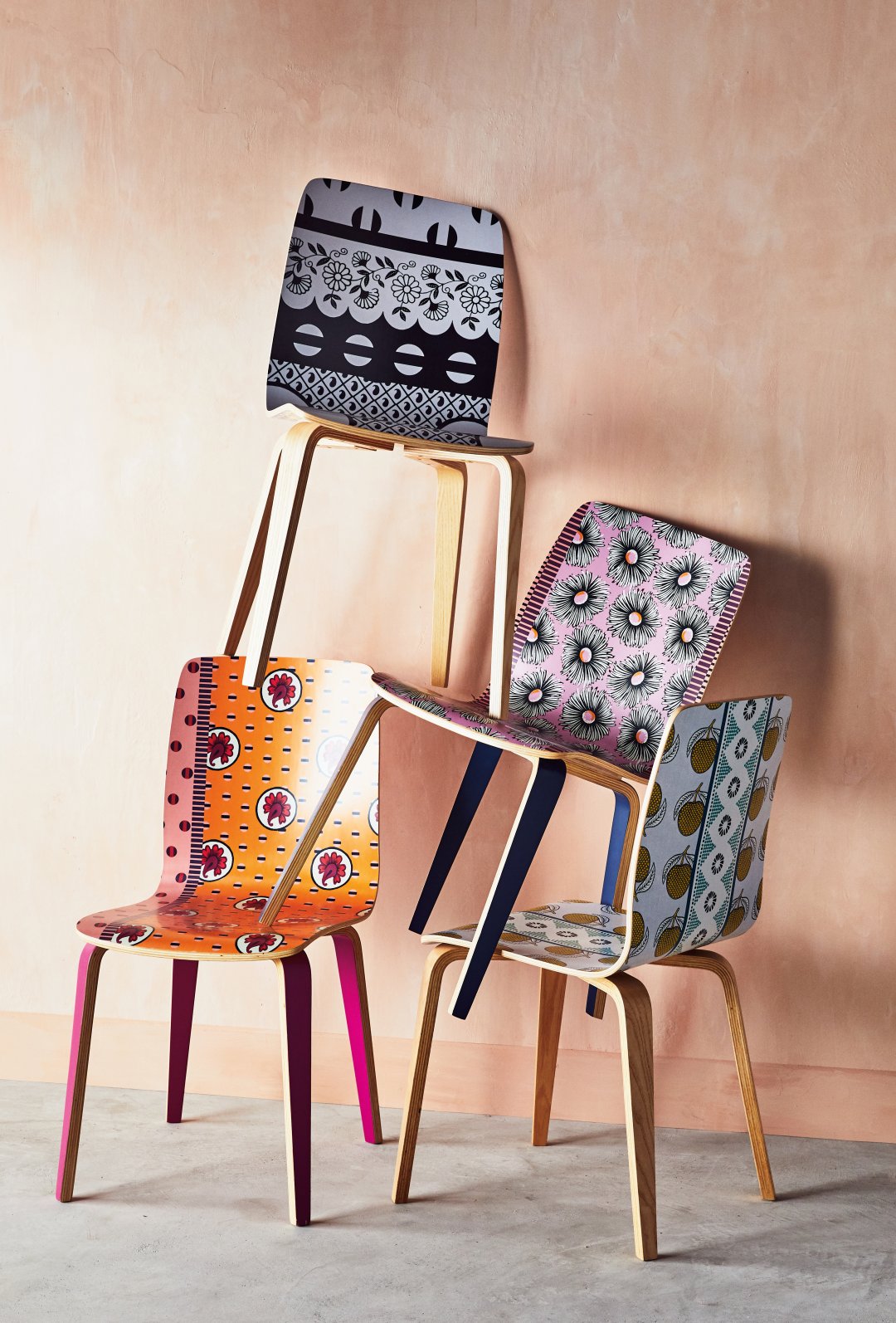 Founded in 2008, SUNO set seasonal trends year after year, charming fashion insiders with innovative, globally inspired motifs and winning the CFDA Swarovski Award for women's wear. The brand began in Kenya with an exploration of the kanga—a vibrant, printed cotton wrap worn by Kenyan women—and drew inspiration from the work of African artists like Malick Sidibé, a Malian photographer who, in the 1960s, played with patterned backdrops and traditional tribal prints in unprecedented ways.
The first SUNO apparel collection was a literal patchwork of vintage kanga fabrics that the label's founder had collected, cut into pieces, and—alongside Kenyan artisans—re-stitched into tops, tunics, and dresses. These early pieces featured whimsical shapes, unique tessellations, and simple, feminine tailoring.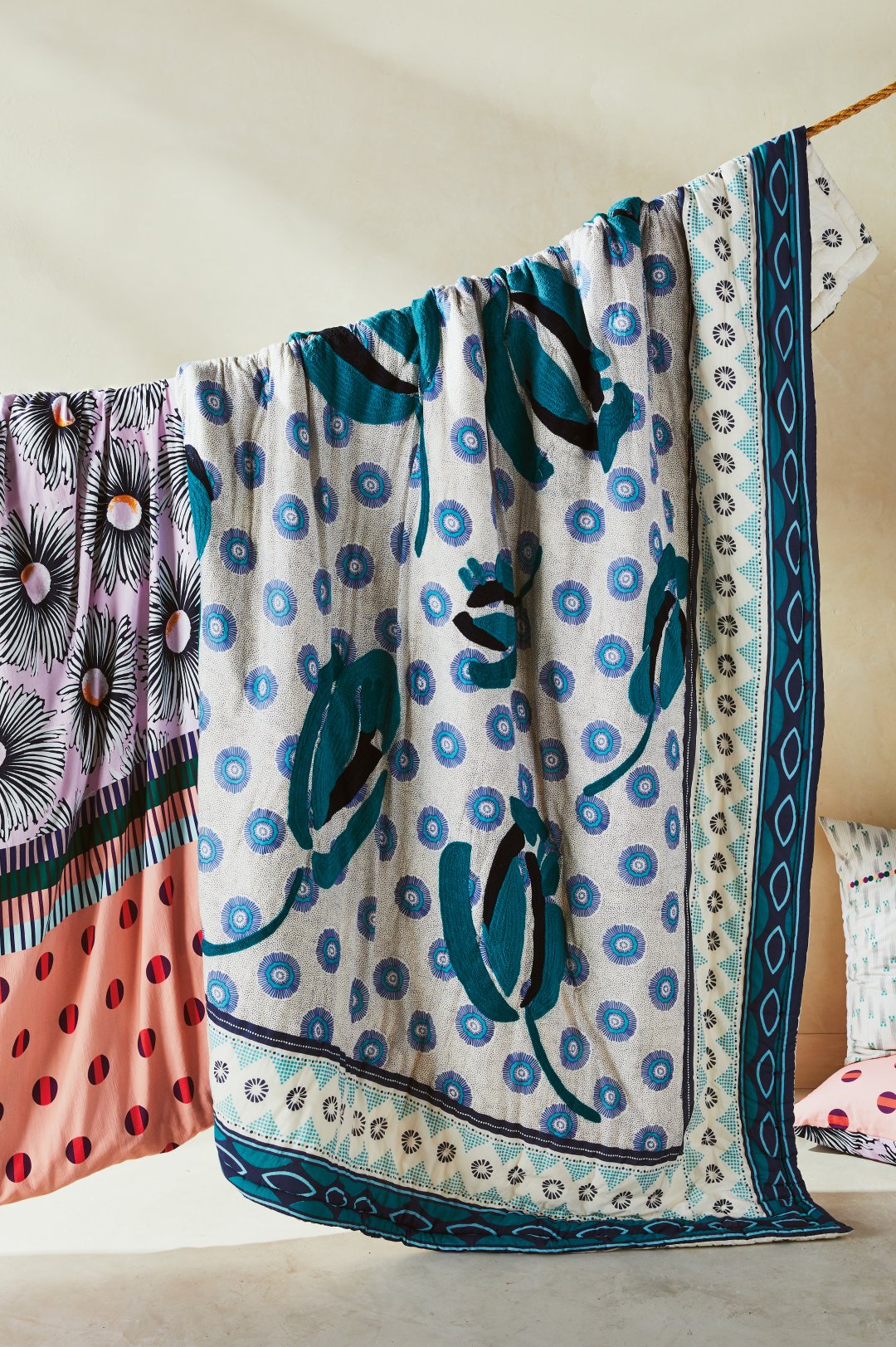 In the following years, SUNO drew influence from a broadening cultural pool: Georgia O'Keeffe flowers, Louise Bourgeois line drawings, and eccentric "outsider" work from the American Folk Art Museum sparked the motifs and silhouettes of subsequent seasons.
The brand's bold yet easy-to-wear apparel garnered a cadre of celebrity fans, from Katy Perry to Michelle Obama. SUNO changed the way the fashion world saw print—and the way women wore it.
For our exclusive home collaboration, we went back to the label's roots. "Our collection is based on one of the first apparel collections SUNO designed," says Julie Gwin, Anthropologie's Associate Manager of Artist Collaborations. "It's what put them on the map."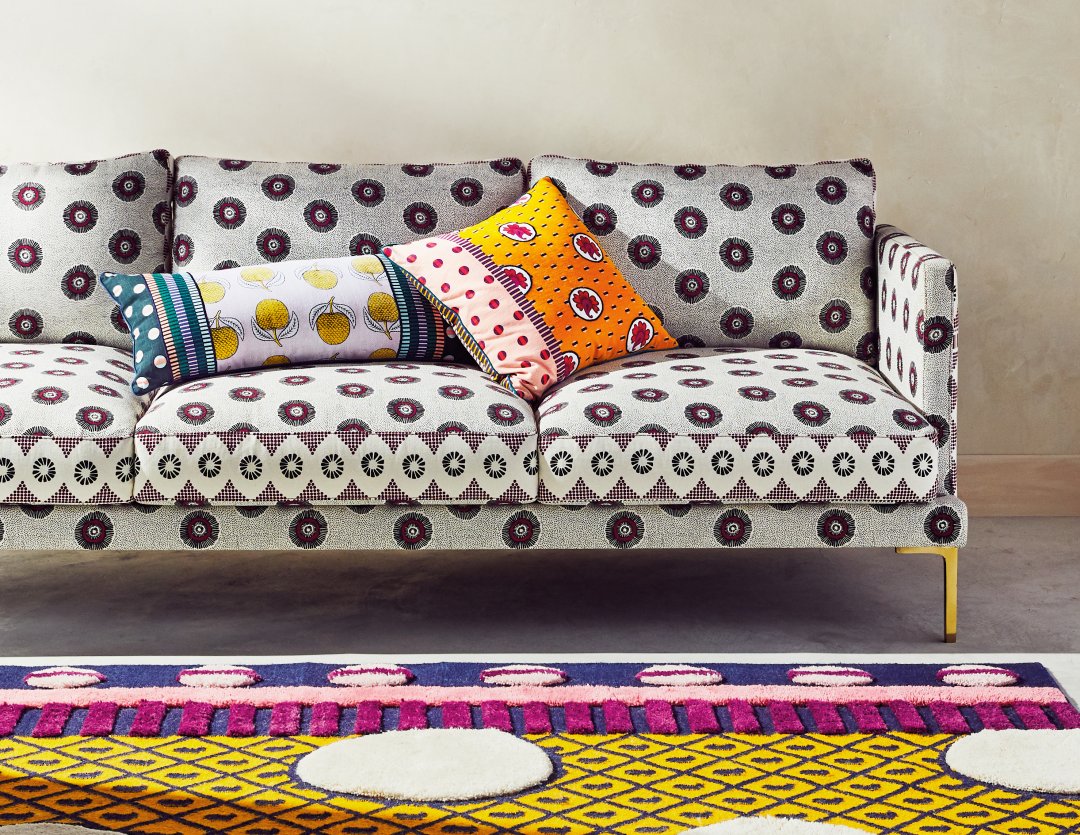 You'll find sumptuously upholstered chairs and sofas, bedding and rugs that brighten and beguile, dinnerware, towels, and wallpaper that pop with personality—and enough candles, vases, and journals to fill every corner of your day with colour.
Our designers have taken care to mirror the defining elements of traditional kangas, which are often illustrated with dots, fruits, flowers, or paisley medallions, and trimmed with a wide, contrasting border. We've also paid homage to the way women layer these multipurpose garments—think one around the waist, another over the shoulder, and another as a headscarf—through the thoughtful juxtaposition of multiple motifs.
The collection itself—each piece, however big or small—is made to create contrast. An accent chair in an otherwise traditional foyer, or a splashy throw pillow mixed among solid ones, gives a room personality. To keep things cohesive, look for colour-palette connections: Perhaps the pink threads on the Woven Malindi Duvet Cover reiterates the tone of your rose-colored curtains, or the blues of the Reactive Collection bring out the teal trim of your more traditional everyday dinnerware.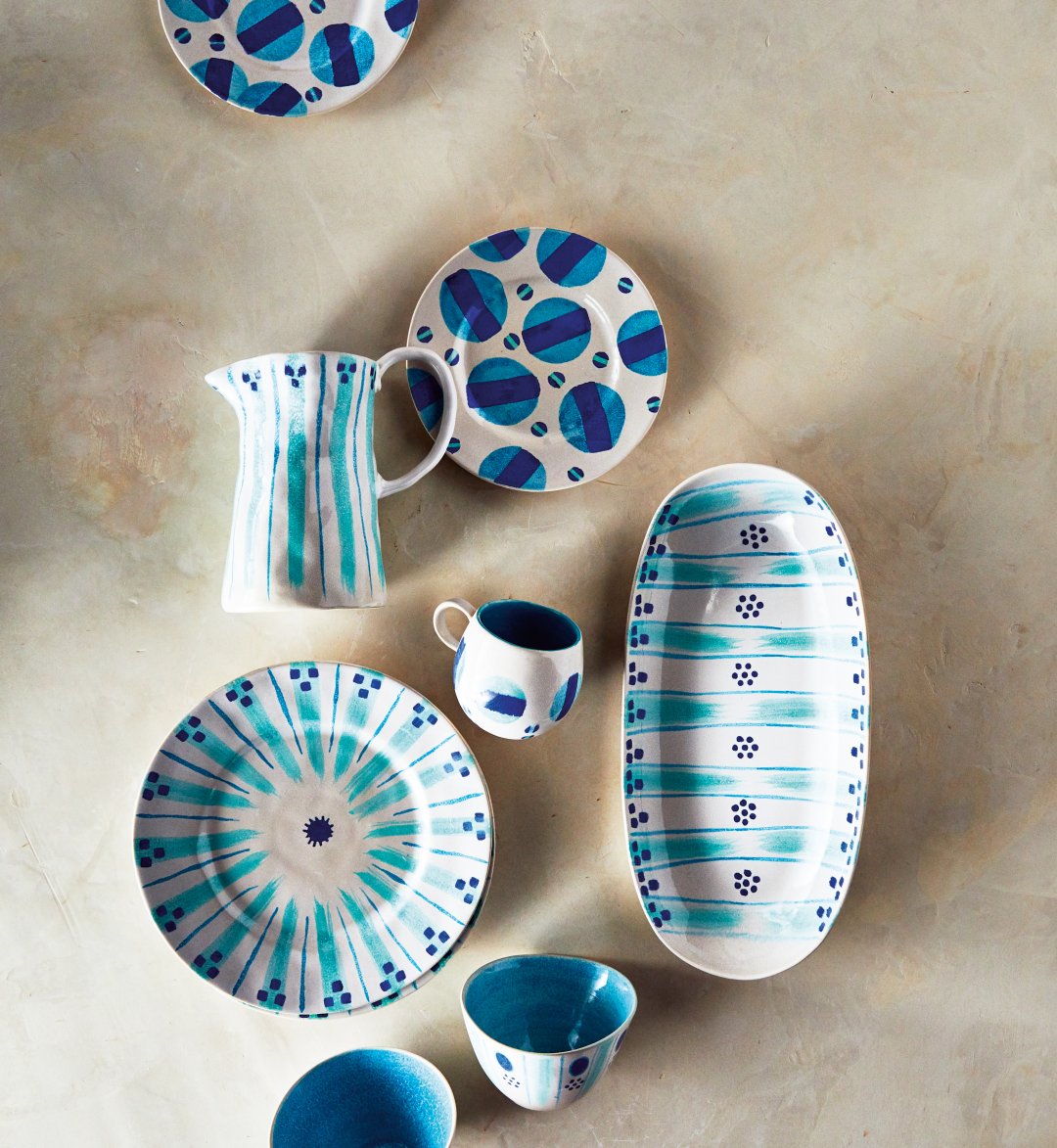 We also wholeheartedly encourage print-mixing within the collection—maximalism is absolutely in. The oversized dots and round florals on our two lampshades, for instance, would make a lively pair, perhaps on either side of a sectional or a desk.
And while one-of-a-kind patterns lead the way throughout our SUNO collection, it's elevated craftsmanship that makes each piece a treasure.
"In textiles, we used embroidery over prints and clipped jacquard. In tabletop, we used wax-resist, reactive glazes, and painting," says Julie. "The variety of techniques really helped bring this collection to life."
Discover the full spectrum of SUNO's patterns and prints here.
Words by Mara Miller Johnson.