If squash isn't synonymous with autumn, then we're not sure what is. And the most October-appropriate variety of all? The pumpkin.
Take a look around you, you'll see pumpkins everywhere—in your morning latte, flavouring your bowl of soup, carved into jack-o'-lanterns, and now, thanks to Dani Tucker from The Social Kitchen, forming gnocchi.
In this third and final instalment of our Tastes of Autumn series, Dani will be teaching us how to whip up a wholesome and warming pumpkin gnocchi recipe, finished with a rich brown butter sauce.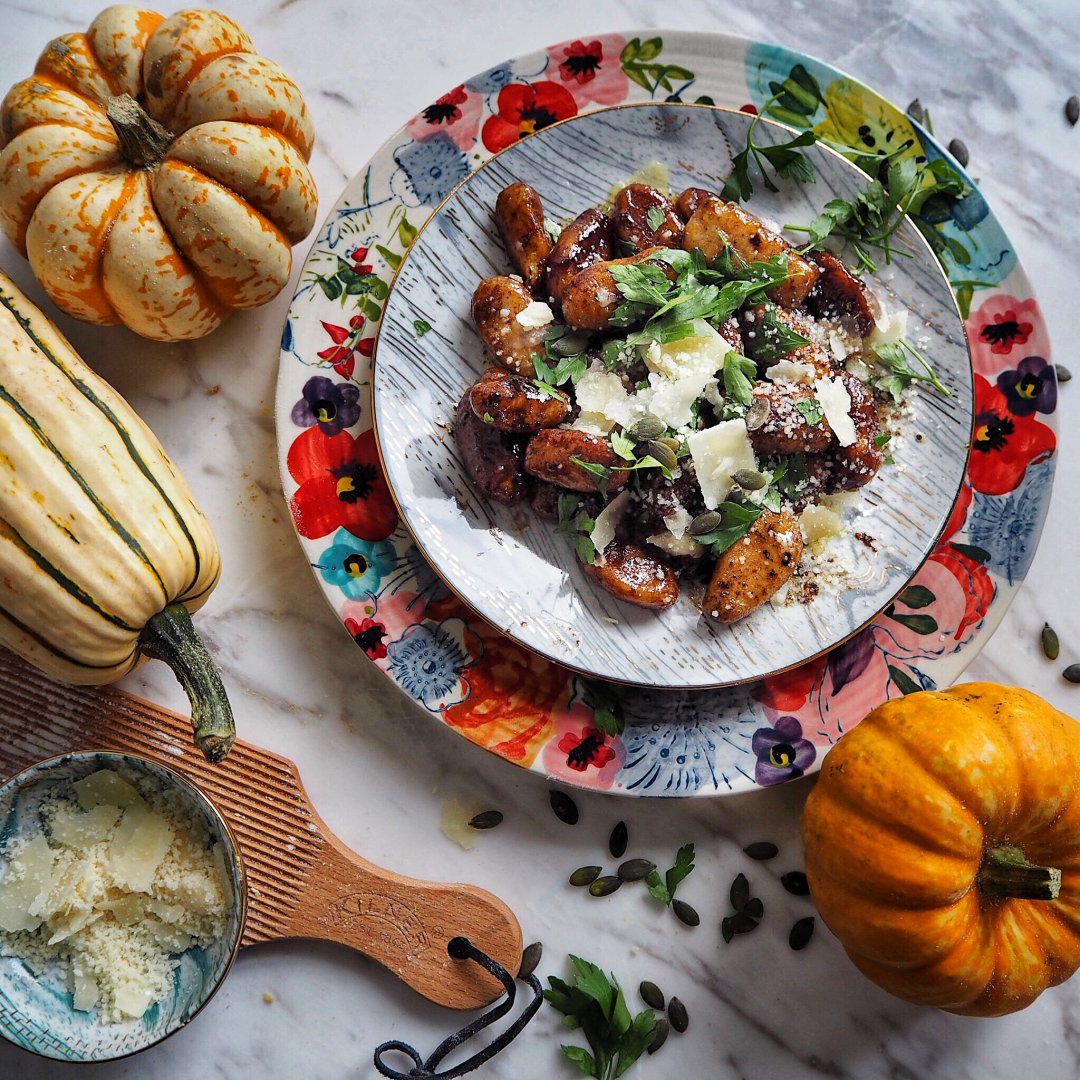 Picked out your pumpkin? Gathered your kitchenware? Then let's get started.
What you'll need
For the gnocchi
600g pumpkin (you can also use butternut squash, if preferred)
Olive oil
Salt and pepper
1 egg, lightly beaten
1 ½ to 2 ½ cups of flour
140g parmesan, grated
For the sauce
100g butter
4 tablespoons of balsamic vinegar
2 teaspoons of brown sugar
Pinch of garlic salt
Pinch of all spice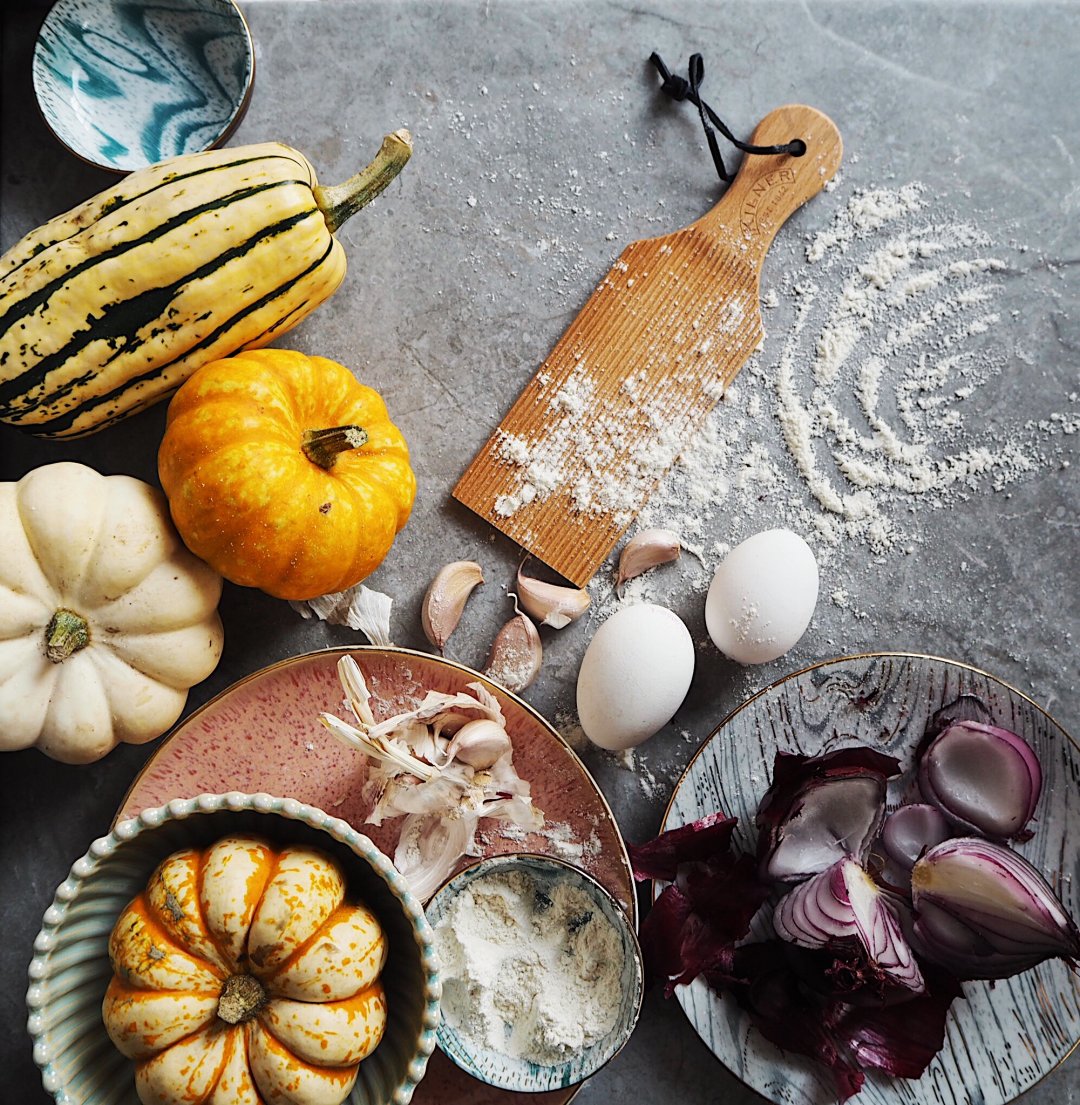 How it's done
Slice the pumpkin in half or, if it's large enough, into quarters. Deseed and place on to a baking tray. Drizzle with olive oil and season with salt and pepper. Cover the pumpkin pieces with foil and place the tray into the oven to cook for around 40-50 minutes, or until it's soft. Remove from the oven and allow to cool.
Once it is cool enough to touch, scoop the flesh out into a bowl and then mash with a fork. Stir in the parmesan and the beaten egg. Next, mix in the flour about ½ a cup at a time, until it becomes a soft dough. To check that you've added enough flour, touch the back of the dough – it should be damp and should not stick to your hand. Add salt and pepper to taste.
Turn the dough out on to a floured surface and use your hands to shape into a square. Use a bench scraper to divide the dough into 16 equal pieces. Roll each piece beneath your hands to make it into a cylinder. If they become sticky, dust with some more flour, but don't overdo it. Cut each cylinder into piece of about ½ an inch. If you want to, use your thumb to roll each piece down over the tines of a fork to indent – this part is purely for aesthetic!
Bring a large pot of heavily salted water to a slow boil, over a medium-high heat. Simmer the gnocchi in batches, until they float to the surface of the water, plus an additional 30 seconds (if they are fresh). Using a slotted spoon, transfer the gnocchi onto a clean rimmed baking sheet. Save the pasta water for the sauce.
In a large frying pan, melt the butter over a medium heat. Once it starts to foam, add the brown sugar and stir. When the butter is brown, remove it from the heat and carefully stir in the vinegar. Stir in the pumpkin gnocchi and ½ a cup of the pasta water that you've saved. Return to the heat and cook until it's just about coated in the sauce. Add a lot of freshly ground black pepper, a sprinkle of oregano and some freshly shaved Parmigiano-Reggiano.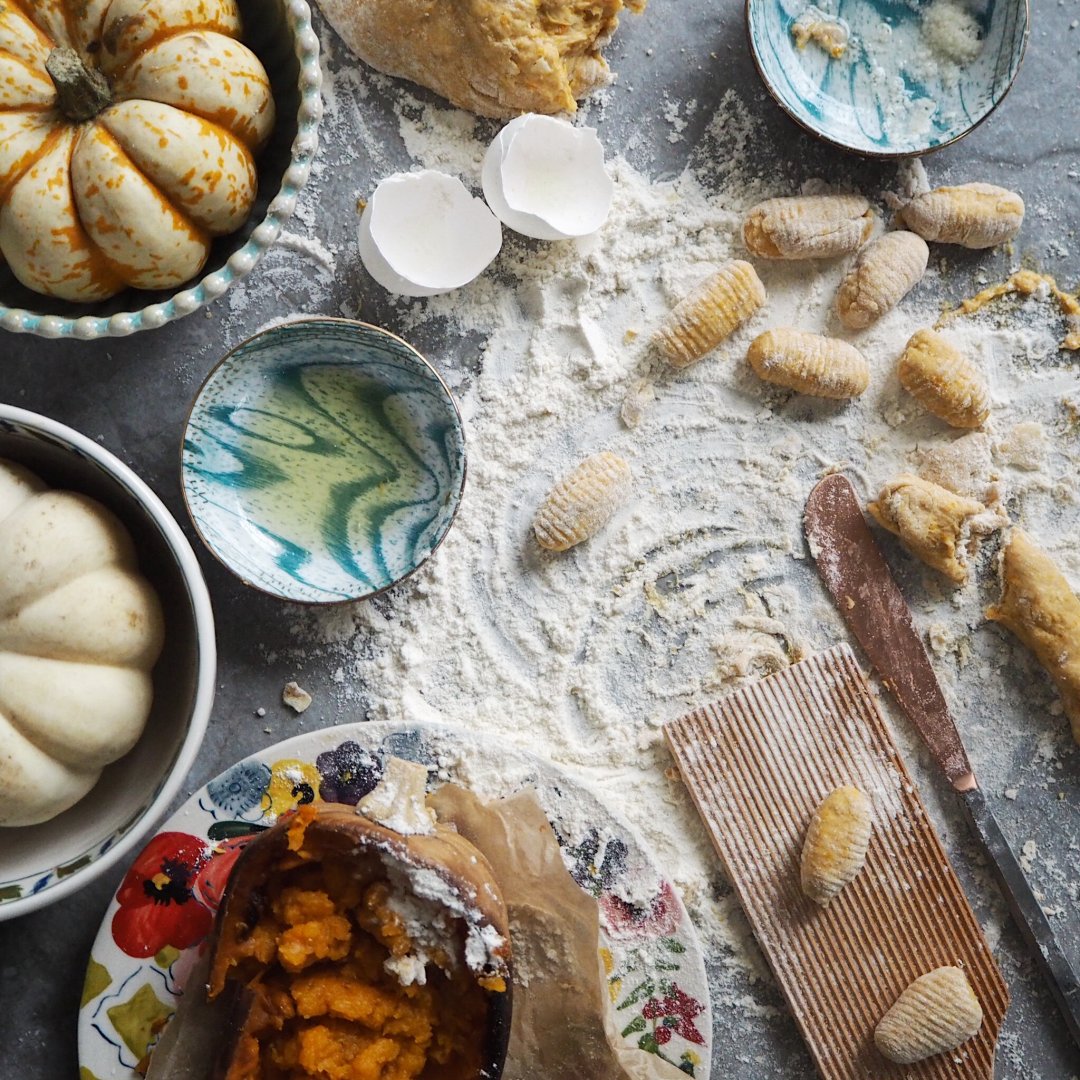 See parts 1 & 2 of our Tastes of Autumn series on our Create page.