'Set the table.' The phrase itself suggests a certain exactitude and composure: the plate here, the napkin there, the silverware aligned or ordered just so. But here at Anthropologie, we believe that dining together should be more of a devil-may-care affair.
There's an art to entertaining that should feel relaxed, not regulates—where we feel free to lay the table with what we love, not what we laboured over.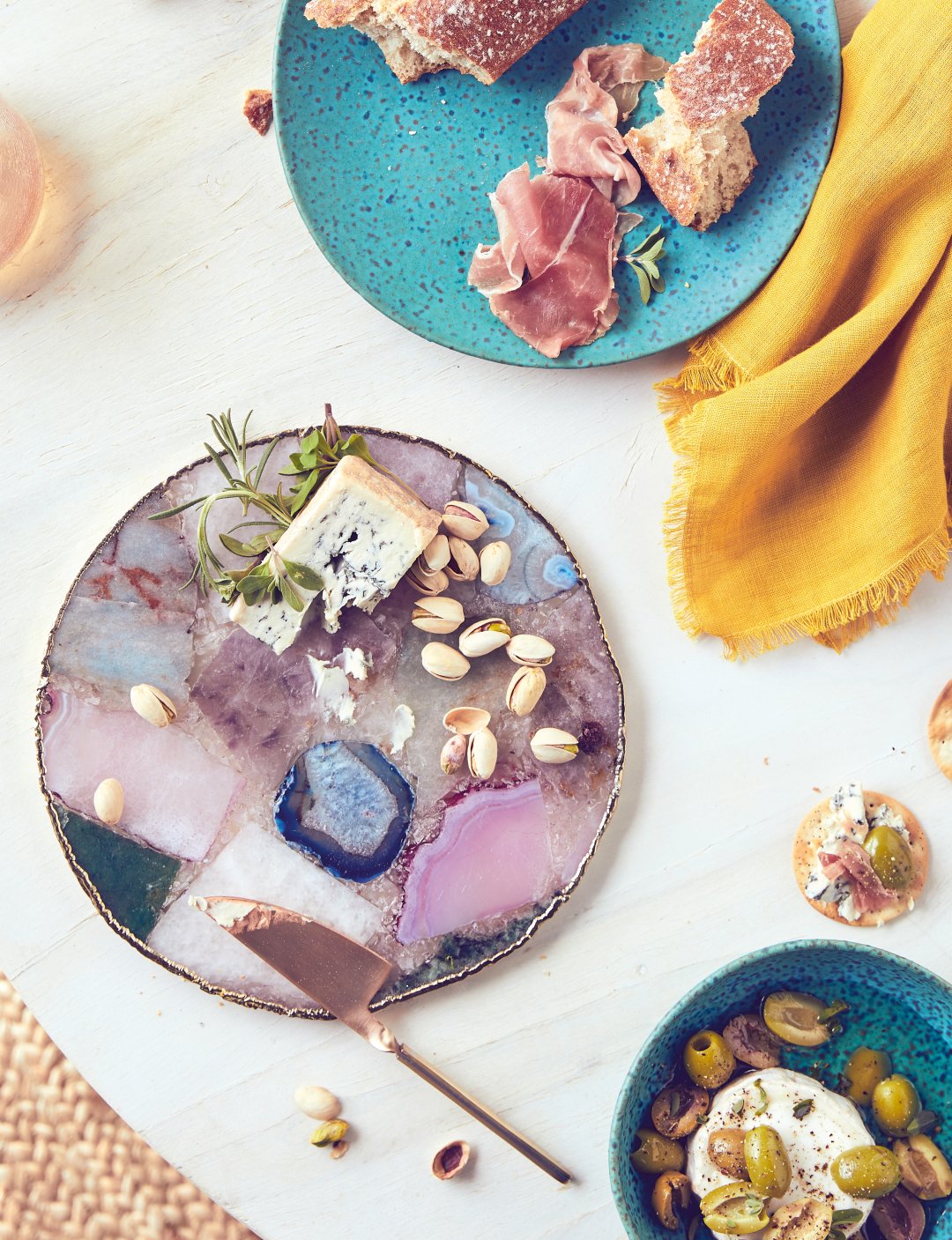 This autumn, we're introducing a swathe of fresh table setting inspiration: new colours, shapes, and finishes to our tabletop collection—designed to be as eclectic or as simple as your taste dictates. Whether your design palette leans towards monochrome or maximalist, traditional or modern, there are endless ways to make the table your own.
Here, our home stylist, Anne White, takes us through her favourite table trends for this season, and how to make them work for you.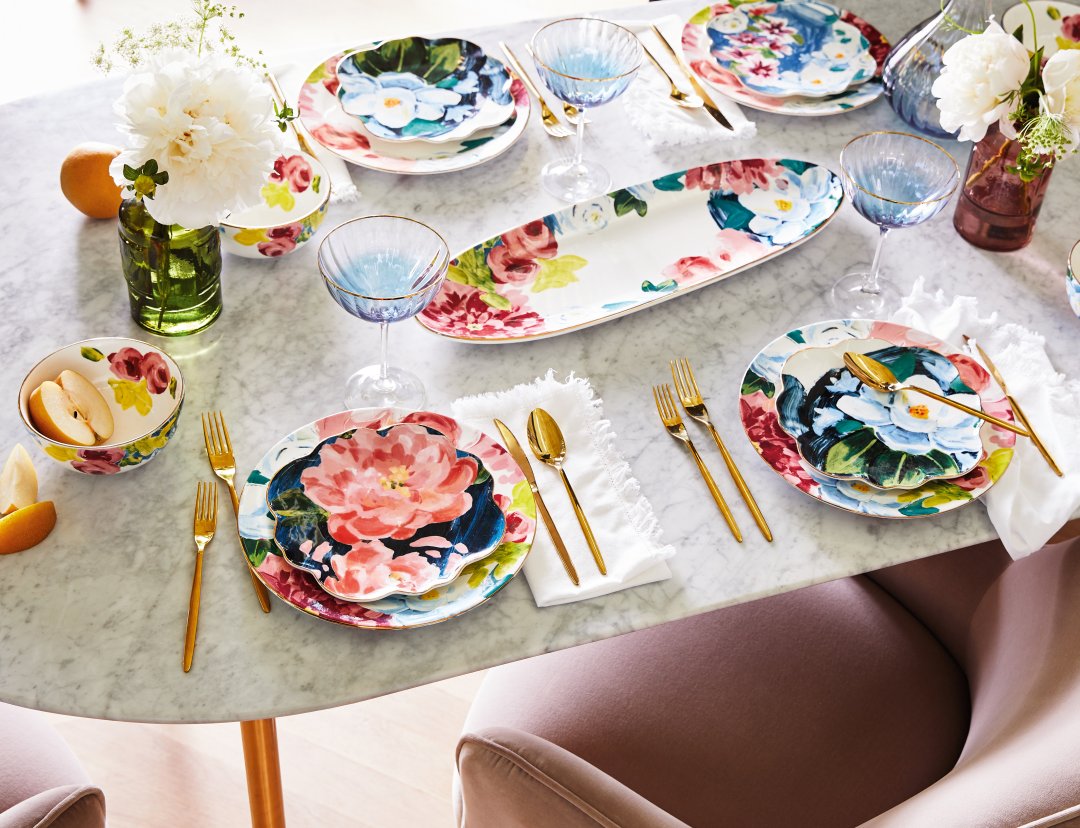 Edible Florals
"Interior décor trends often reflect what's going on within the fashion world," says Anne. "And right now, we're seeing a lot of unabashed femininity, including florals."
So, we're bringing the garden indoors for dinner. But instead of a dainty Victorian rose trim, picture oversized blooms that spill from every surface "as if they were plucked from a still-life painting," says Bernice Kelly, our Design Director for dining and entertaining. Exuberant brush strokes and a vibrant palette look elegant enough for celebrations, but also help enliven a typical Tuesday supper. And rest assured, flowers aren't only appropriate for spring.
"To have an abundance of blooms at your table any time of year… what could be happier?" asks Bernice.
What's better than a few florals? Well, more florals, of course. Mixing and matching styles only adds to the chorus—a look we are loving this season. As for flatware, we love to pair blooms with a warm, unexpected metallic like gold. (Our new Anais Dinnerware Collection even sports a thin gold trim to tie both elements together!)
On the tabletop itself, you'll want to create harmony by introducing additional textures and materials, says Bernice. So, seek out some contrast in your serveware—think planked wooden bowls or agate cheese boards—to highlight the flowers' soft charm. For finishing touches, consider glass chargers, vintage-inspired wine glasses, and candlesticks for added "height and atmosphere."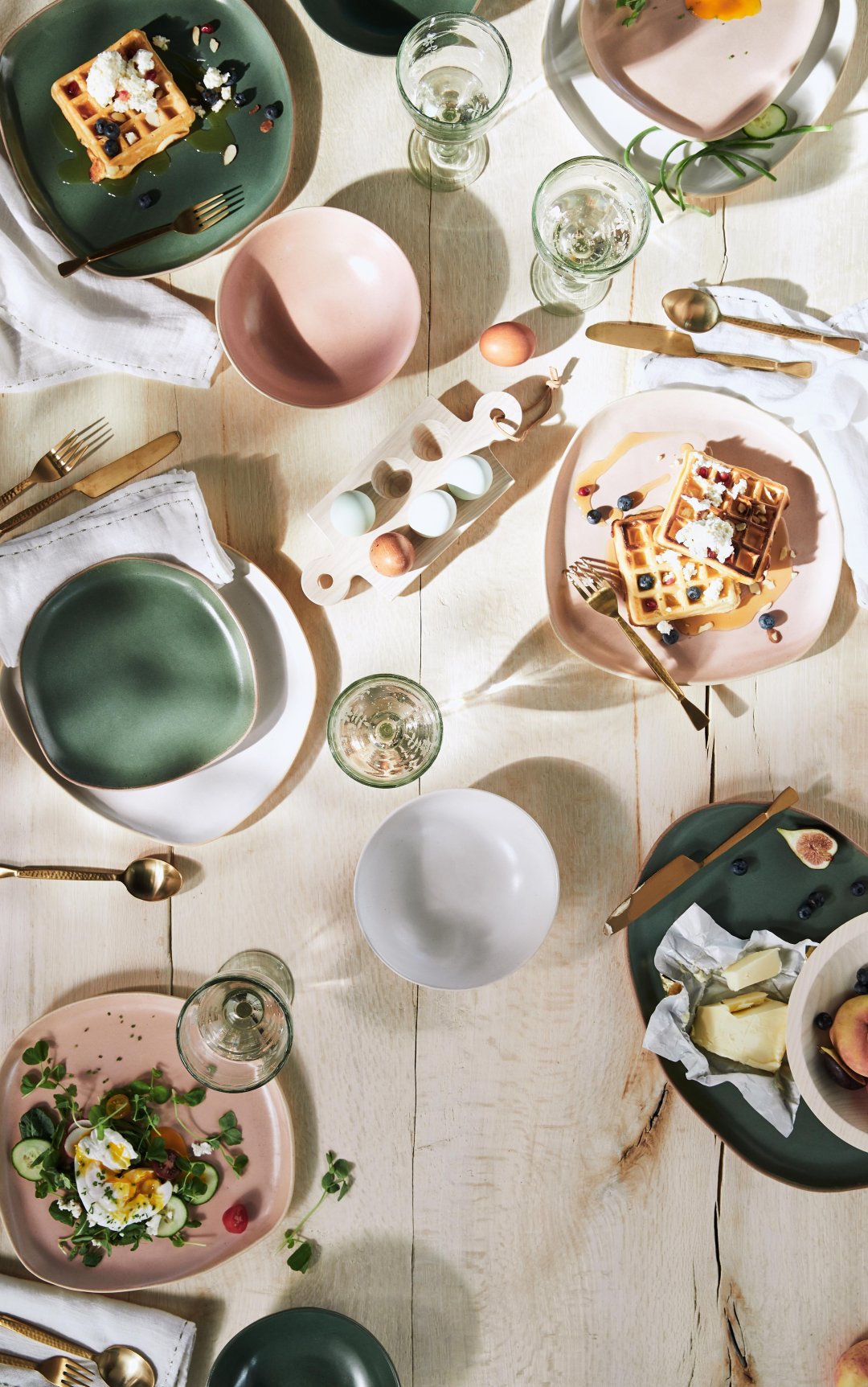 Modern Minimalism
In years past, "minimalism" might have meant glossy, snow-white dishes. But now, it's all things matte. Instead of a traditional, lustrous finish on plates and bowls, you'll often see an organic, hand-hewn look, showcased in dinnerware like our Organico and Cabarita Collections. It helps a table feel more versatile—as in, cocktail-fête hors d'oeuvres and chicken nuggets both welcome.
"The aim is to create a perfect balance of elegance and ease," says Bernice, whose expertise lies in creating fresh new finishes for our ceramics. "The look works as well for a casual dinner party as it does for weekend breakfasts and family-style dinners."
To complement this handcrafted aesthetic, soft, earthy colours of clay and charcoal are creeping in to complement the usual monochrome. And perfect circles are no longer required:
"Compelling colour and interesting form both play a role in modern minimalism," says Bernice. "A minimal tablescape does not mean aesthetic and style should be sacrificed," adds Anne. "But ensure that each piece is both beautiful and functional."
For the rest of your table, "texture is key," says Bernice, who likes the look of recycled glassware, copper pitchers, and macramé runners. "You want it to be relaxed and tactile."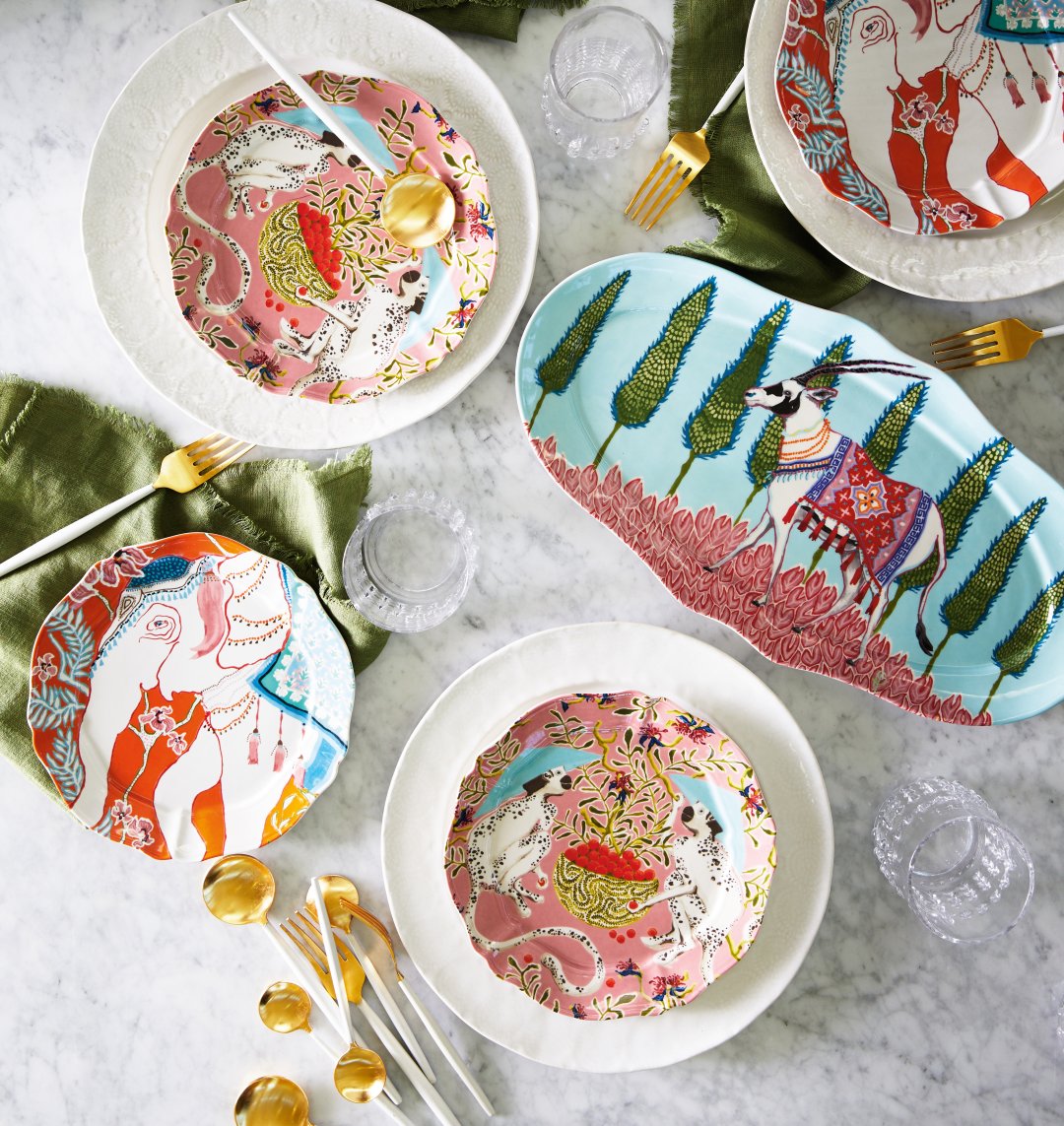 Maxed-Out Motifs
Maximalism is a trend The Wall Street Journal describes as "a luxurious riot of colour and pattern," and House Beautiful calls "the epitome of the passion, power, and joy that can be expressed through a room." Enticing, no?
"Designers are welcoming the 'more is more' mentality," says Anne, "and we couldn't be more excited."
Think mixed prints, exuberant colour, and all kinds of diverse patterns, combined to dazzling effect; it's one of Bernice's favorite trends, too. "Maximalism allows for individual personality and style to meet," she says.
And the approach makes it easy for your table to evolve over time, since new pieces can join the mix without cause for concern over whether they'll "go." It's not about any singular time period, or geographical region, or artistic technique—it's about what speaks to you.
"Set the tone with a great dinnerware collection in a geometric or floral pattern, then layer in a touch of novelty with the Eastern Animal Side Plates, designed by Paige Gemmel," suggests Bernice.
"Coloured glassware like the Purple Waterfall Coupes can also add to the pattern play. The look really brings the wow factor to a dinner party," she says. "Your guests walk in and see your tablescape… what a great appetiser!"
The perfect dinnerware is served here.
Words by Mara Miller Johnson