One of our favourite ways to refresh a room is from the ground up. Rugs have the power to transform a space, whether by creating a clean neutral base or taking center stage.
But there's no such thing as a magic carpet. Selecting the right rug for your room requires careful planning, meticulous measuring, and expert know-how.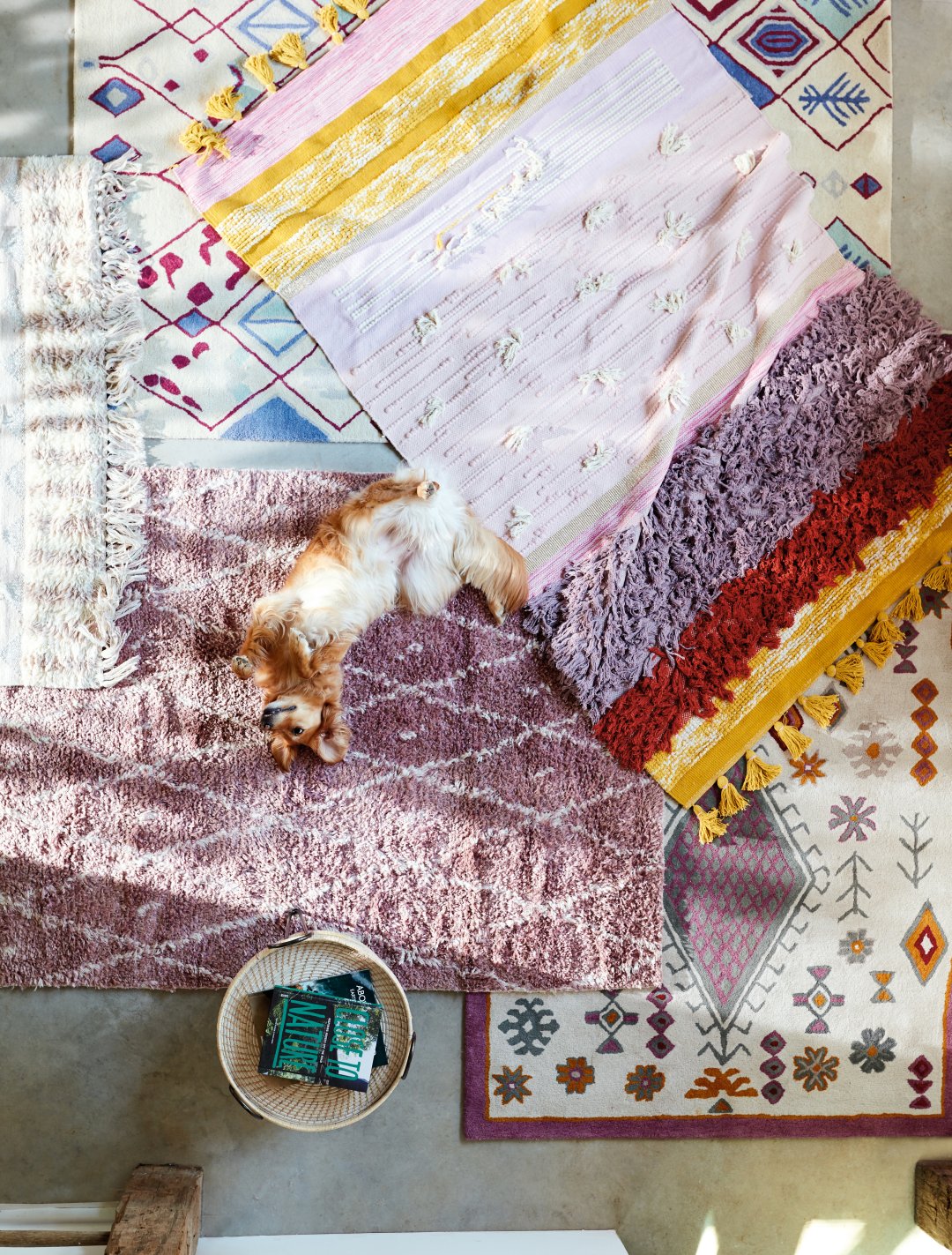 "Rug questions are some of the most common we get, and it's easy to understand why," says Anthropologie Home Stylist Anne White. "Finding a rug you like is only the beginning. It has to work around—and under—your furniture and décor."
Here, Anne sets about solving the rug conundrum in three common living spaces.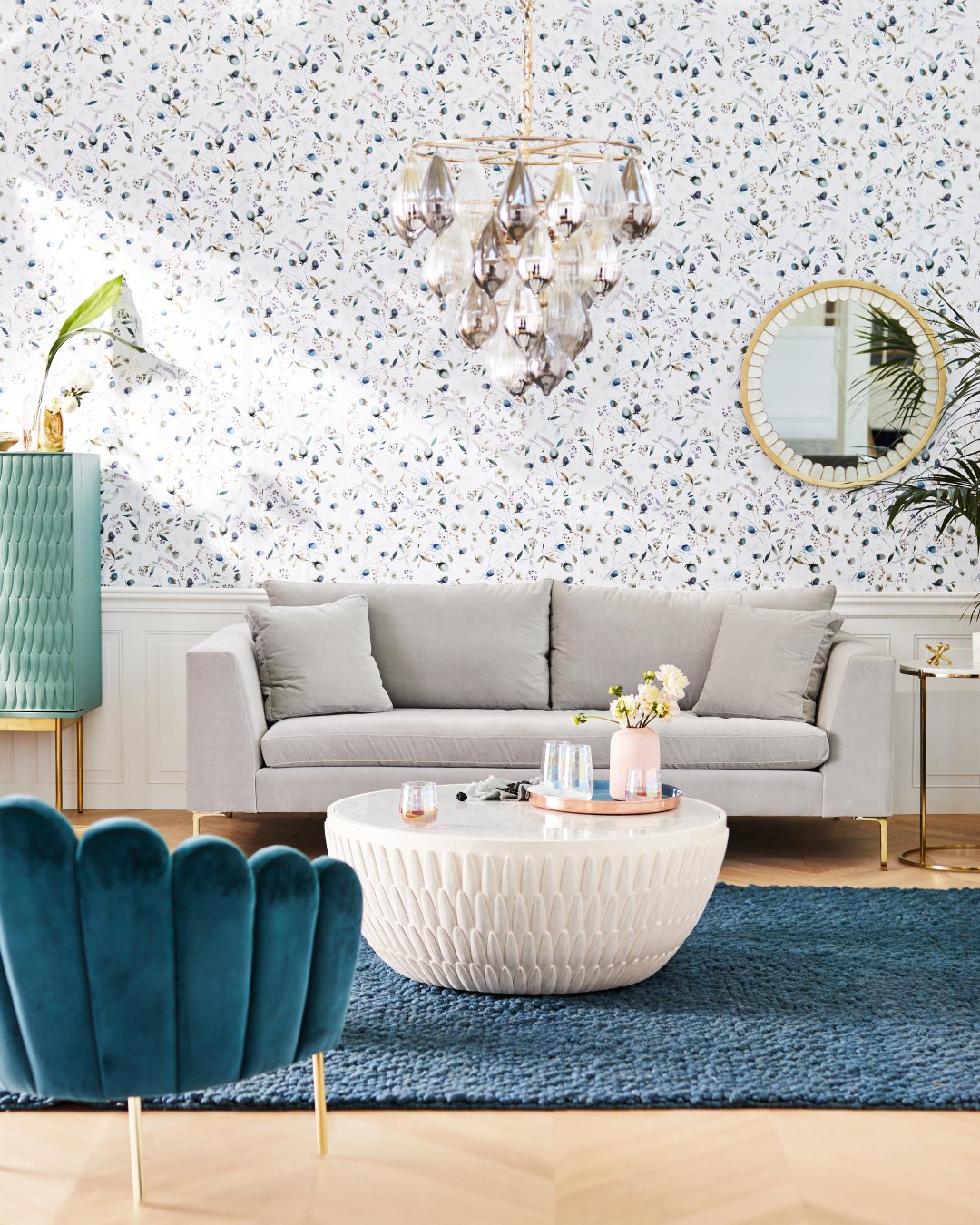 The Living Room
Before you even begin rug shopping, measure your living room's seating area; you'll want to select a rug that's slightly larger than this space. Sounds too big? When it comes to rugs, most of us have a bad habit of erring on the small side.
"By far, the most common mistake people make is buying a rug that's too small for the room," says Anne. "When a rug is just floating on the floor like a postage stamp, it makes the space look smaller and disjointed."
Ideally, you want all of the furniture in your seating area—the sofa, coffee table, and any chairs—to fit on the rug with at least six inches to spare on every side. If that's not possible, you can bend the rules and go with the "two legs on, two legs off" approach, but stay consistent. If only the front two legs of your sofa are on the rug, mirror this placement with your armchairs.
Large rugs can be expensive, so if a 5ft x 8ft kilim isn't within the budget, Anne suggests a layered approach. Lay the foundation with an inexpensive sisal or jute rug, then place a more luxurious carpet on top as an accent.
While you may be hesitant to invest in a printed, pop-color couch, rugs—runners and smaller area carpets—can be an interesting place to introduce pattern and experiment with a bolder palette, says Anne. For a fresh look, consider the Abstract Floral Rug, available in three sizes. While it can easily hold its own with statement furniture, it's especially vibrant when paired with neutral upholstery; the eye has a chance to rest, then discover the painterly florals underfoot.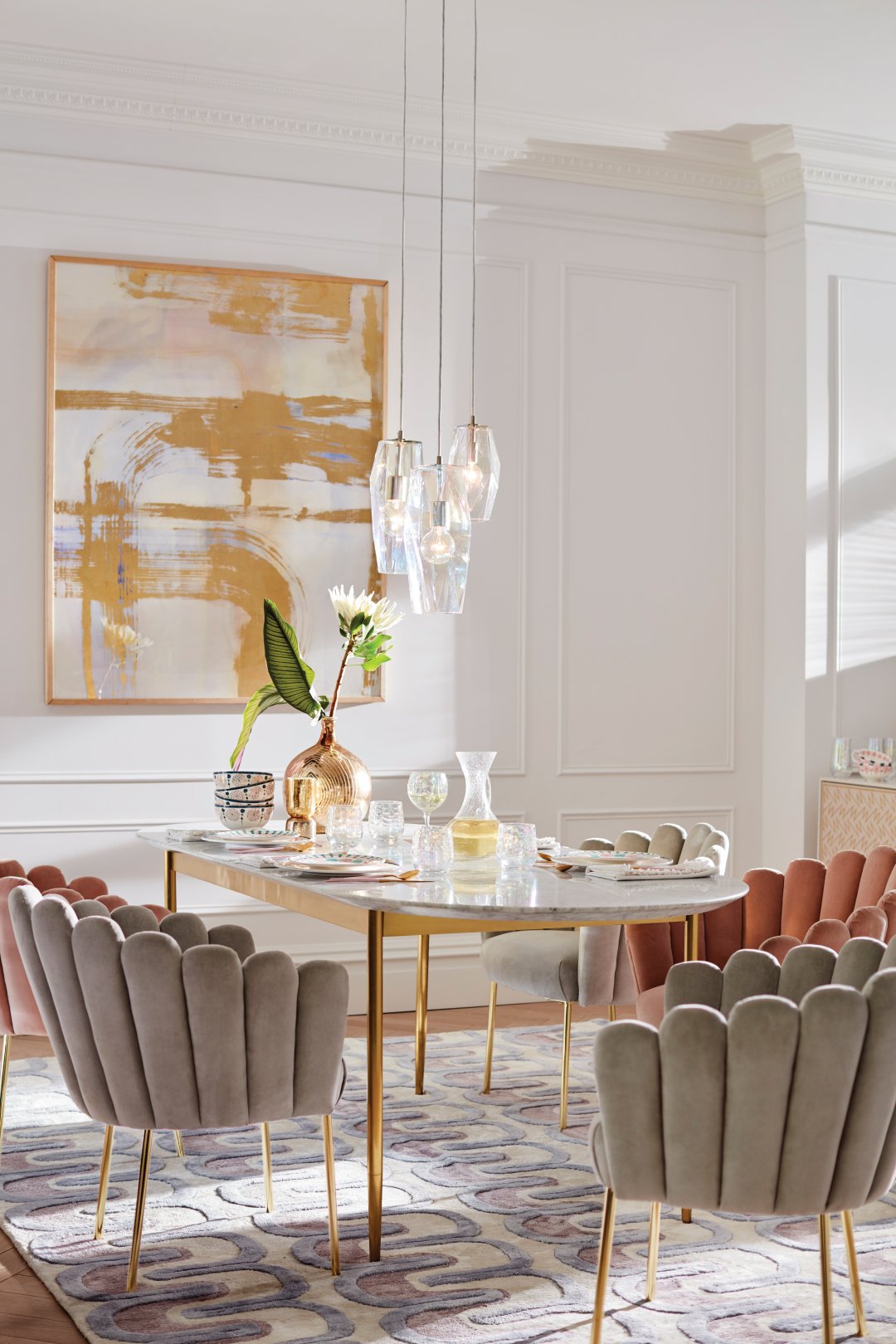 The Dining Room
"A rug in the dining room is divisive," says Anne. "Some people say always, others say never."
Anne, for one, is on #TeamDiningRug (even with a toddler). If you, too, prefer a rug under the table, select one that's large enough to accommodate both the table and all of the chairs when they're pushed out. Anything smaller will create a tripping hazard.
Stain-resistant materials are key in the dining room. Wool rugs—such as the kilim-woven Bonita Rug—are particularly forgiving, with easy-to-clean fibers that naturally repel liquids. On the other hand, sisal, jute, and seagrass tend to hold onto their grudges (and red wine).
Similarly, kitchen rugs can be controversial. But if you're open to the idea, Anne suggests a small 2×3 rug near the sink, or a runner in a long, narrow kitchen. "It's a great way to warm up the space and add some texture against tile or marble," she says.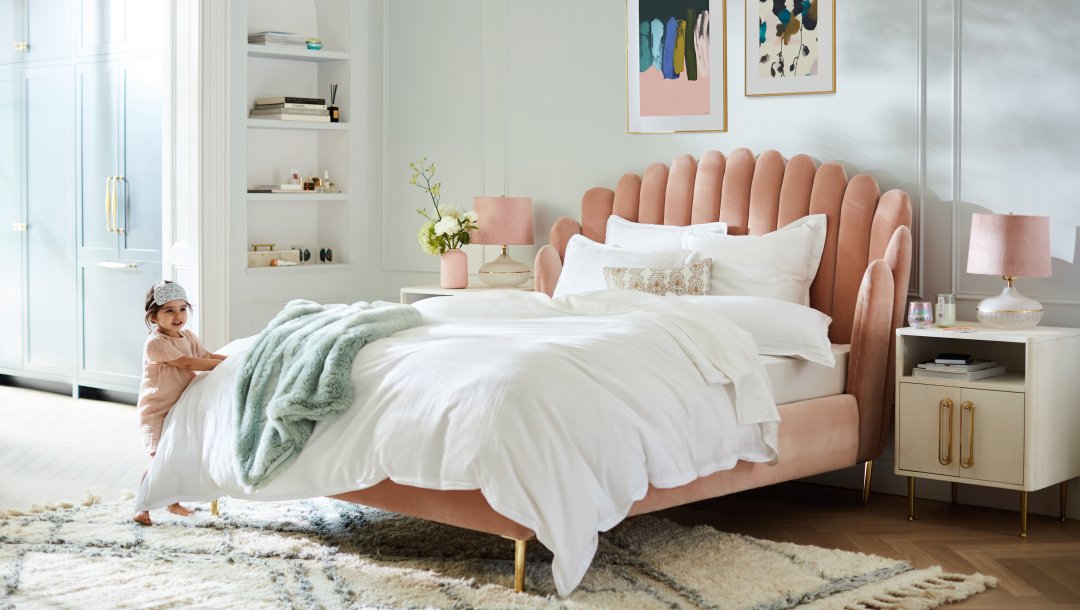 The Bedroom
Your bed will dictate how large your rug should be.
In a perfect world, says Anne, you want a rug that's big enough to fit under your entire bed and nightstands, with at least a foot (and preferably three) to spare on all sides. If that doesn't work with your space or your budget, place the rug lower – we recommend starting at your nightstands, so that the rug ends beyond the foot of your bed. Another option is to use two runners to extend from the nightstands and frame the bed.
Ultimately, the goal is to have somewhere soft and cosy for your feet to land, both first thing in the morning and last thing at night. With that in mind, consider an extra-plush carpet, such as the Chalcot Viscose Rug.
"There's nothing worse than a cold floor after your alarm clock goes off," says Anne. "Treat yourself!"
Roll up, roll up. Find more rugs here.
Words by Monica Weymouth