We believe in the age-old adage that inspiration can come from anywhere. Whether light glinting off the ocean catches a painter's eye, or a particularly great cup of coffee compels a painter to craft a mug, we know that "ah-ha" moments are all around us. Sometimes, though, inspiration builds over time, drawing from a well of travel, heritage, and history.
Such is the case for Bethan Gray, a Welsh furniture and housewares designer descended from an ancient clan of nomads who migrated from Rajasthan, India, across Arabia and Persia to eventually find a home in the land of the Celts.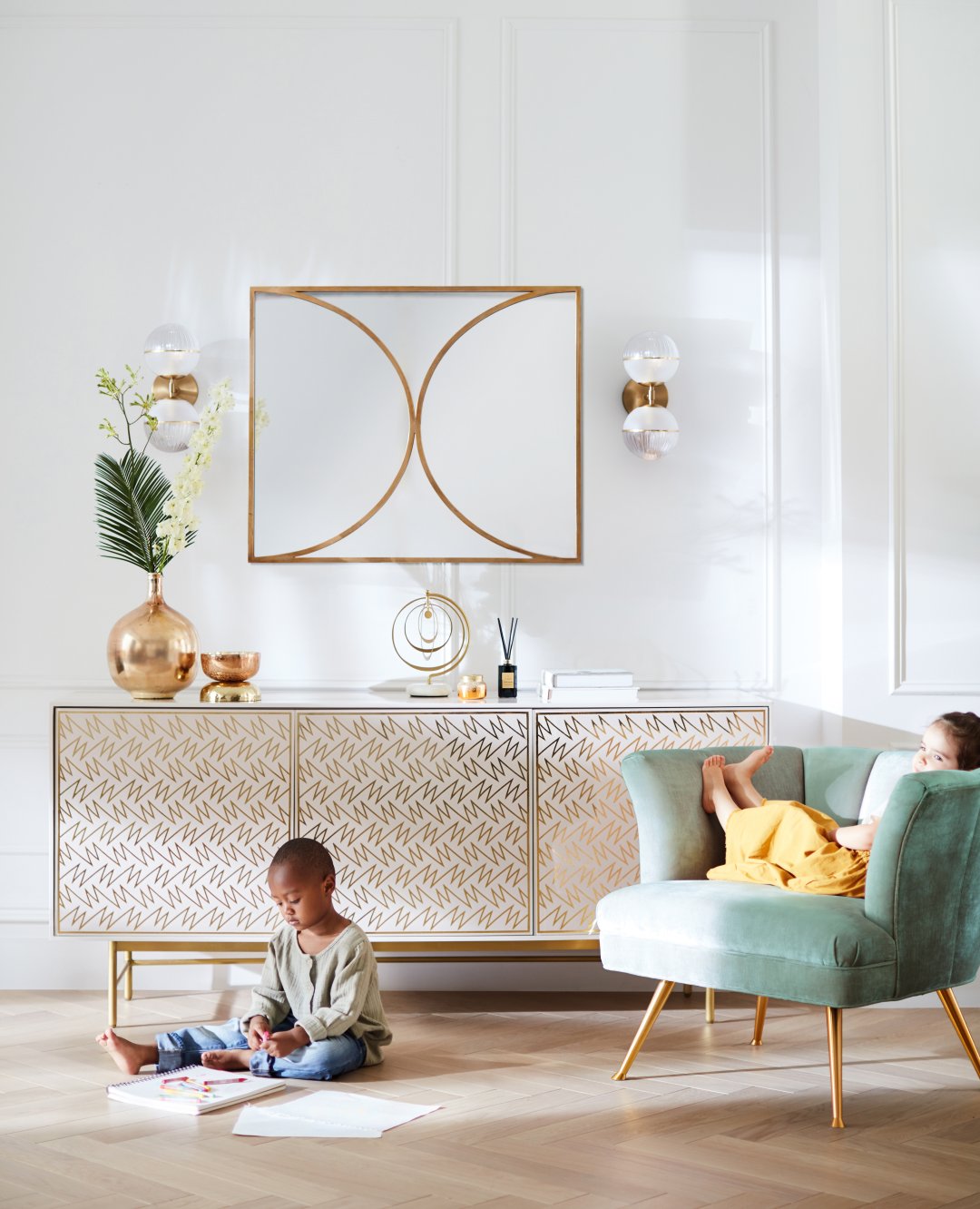 Bethan's designs are a true blend of East meets West, using an abundance of global craft traditions to inform her signature modern style. And her work has fans in high places: She was named Elle Decoration's British Designer of the Year in 2013.
"Everything I design starts with a story," says Bethan, the creative force behind an exclusive and limited-edition home collection for Anthropologie. "The Welsh are very open, and I was brought up to be really proud of my Romany roots." That openness piqued her curiosity for history and travel, she says. "All of my work is about exploring other cultures' stories and craftsmanship, and bringing that to life in contemporary designs."
Everything I design starts with a story.
- Bethan Gray
In her most recent exploration—a collection of a dozen pieces for Anthropologie—Bethan turned to a natural material found across the globe and studied its role in ancient craft traditions: the humble feather.
"I started researching historic garb and was quickly drawn to the patterns, forms, and motifs I saw—they looked so contemporary, and I just thought they were beautiful," she says. From there, the Feather Collection took shape, echoing the form of plumes aligned and layered on a bird's wing.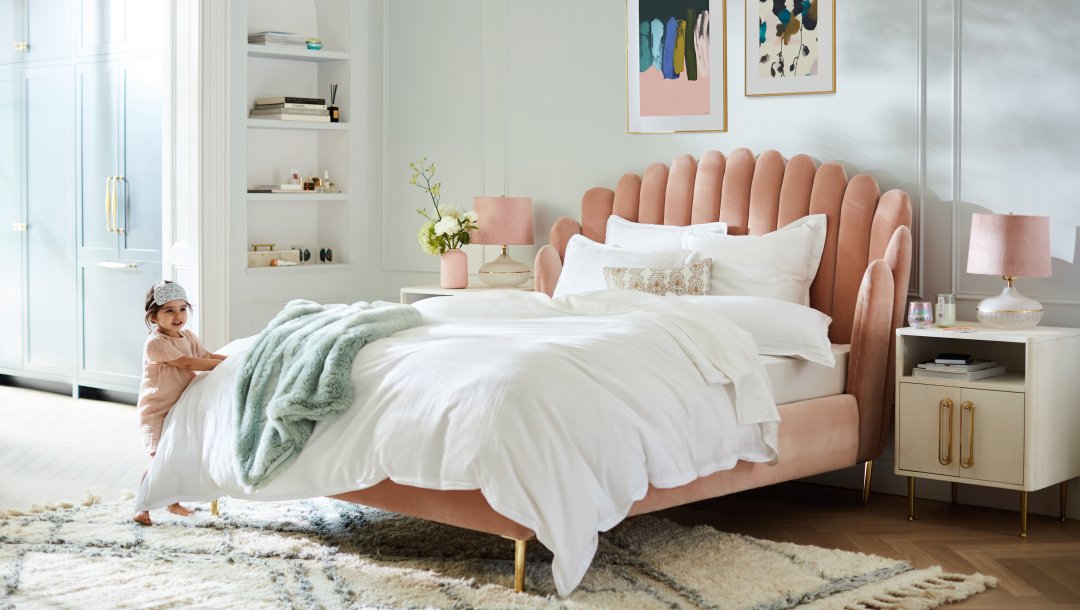 Bethan describes the most dramatic piece from the collection, the Feather Collection Bed, as "cosy glamour"—infinitely sophisticated, but ultimately welcoming. "Velvet is such a tactile fabric, and its depth makes it a great colour carrier," she says. "Plus, it's warm," she adds, noting that she's often chilly, thanks in part to her husband and business partner, Massimo: "He always leaves the door wide open, so I'm never without a blanket."
The duo live and work together in London with their 3-year-old son, Cian, who's learning how to speak Welsh like his mom. Balancing motherhood with business is a team effort, one Bethan says she's grateful for. "The first year was really hard," she admits, "but it gets easier, and it's really good for him to see a working mother—I'm bringing him up to be a feminist." Cian also joins his parents on their extensive travels. "He is having some pretty amazing experiences for a child of his age," Bethan says.
For me, home has got to be comfortable, beautiful, and full of colour, texture, and softness.
- Bethan Gray
Bethan's globetrotting allows her to explore the architectural forms and details that help define a place. This, in turn, helps define her furniture. "I start by photographing everything that catches my eye, then categorise my pictures into similar colours, textures, or patterns. Those groupings form the very beginnings of ideas," she explains.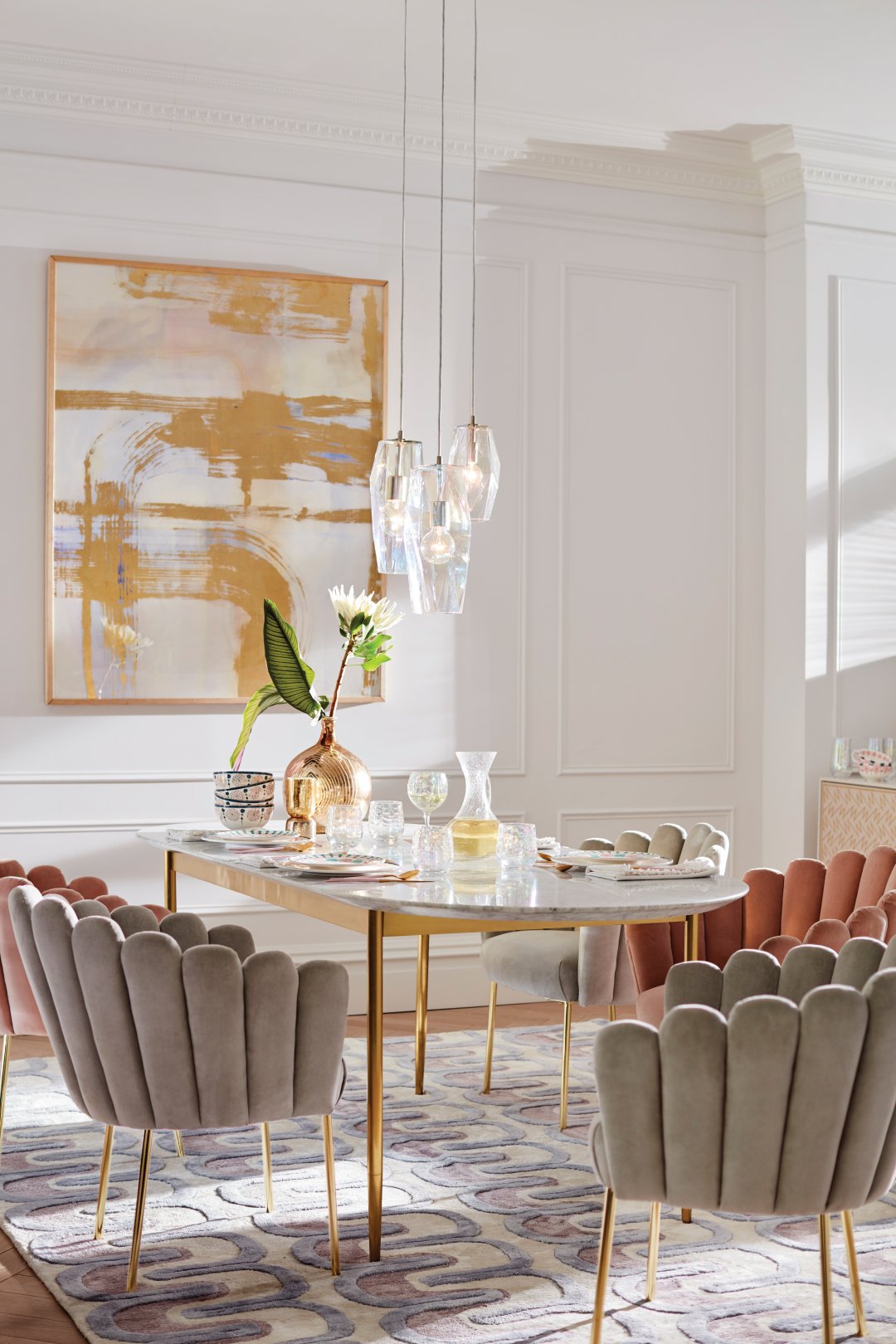 Consider the Strike Collection, realised in sculptural curves and the mixed materiality of brass and marble. Its lines and tessellations draw from the famous Nizwa Fort in the Arabian country of Oman, which Bethan studied on a recent trip.
"Many people think the collection is Art Deco, but it's actually not. The Sultan of Oman has been encouraging craft there for the last 40 years, and craftsmen use techniques I've never seen before—stuff that's very difficult to create."
The colours, the material, the patterns—I love how they play together.
- Bethan Gray
Bethan's collections reflect her devotion to timelessness and functionality, which she values in her own home too.
"For me, home has got to be comfortable, beautiful, and full of colour, texture, and softness," she says. "I need a space that feels welcoming, because we're very social—we're always inviting people over for big dinners in the garden."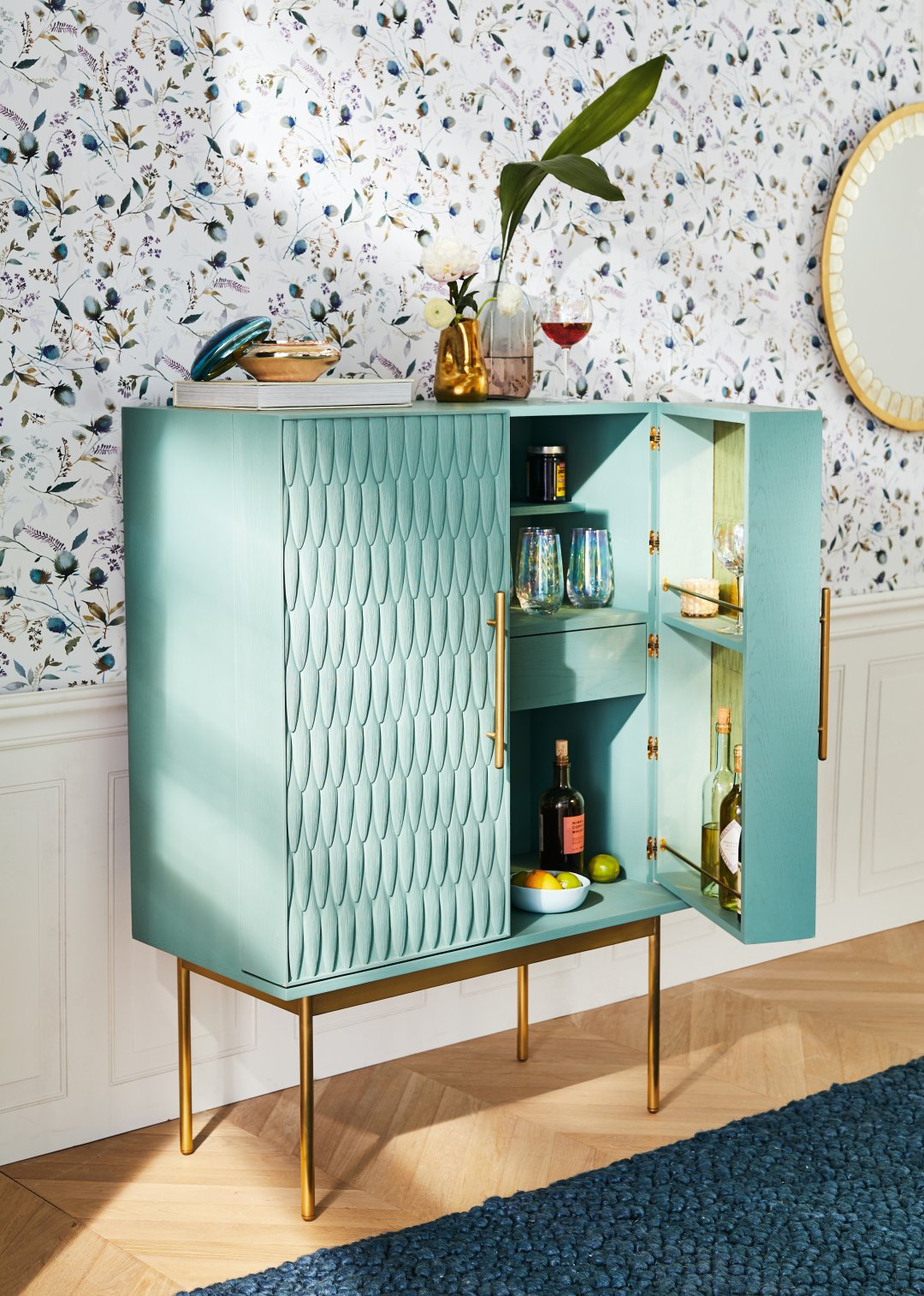 Cue the Feather Collection Bar Cabinet, a show-stopping piece crafted from hand-cast resin with solid brass legs and lined with a gold-leaf pattern that pops on the inside. "The colours, the material, the patterns—I love how they play together," she says. "I love how the brass really warms everything up."
Bethan's furniture is an ode to culture and craftsmanship backed by a creative process that's as nuanced as the pieces she designs. She recalls a trip several years ago to her ancestral Rajasthan, where she worked alongside artists who were hand-carving pieces from rose quartz and lapis lazuli. It was important to learn from local artisans, she says, and to appreciate what each pair of hands could offer.
"Though most of my work is inspired by architecture or ancient artifacts, it's the journey of finding those things that inspire me, too."
More from Bethan Gray for Anthropologie: shop the full collection.
Words by Kate Catinella