"Everybody knows I do my best work in bed," once quipped actress Mae West. A prolific writer in addition to a saucy screen siren, Ms. West was referring to her screenplays, of course, which she had a habit of penning while between the sheets.
Her creative process, although slightly unorthodox, has its share of high-profile fans.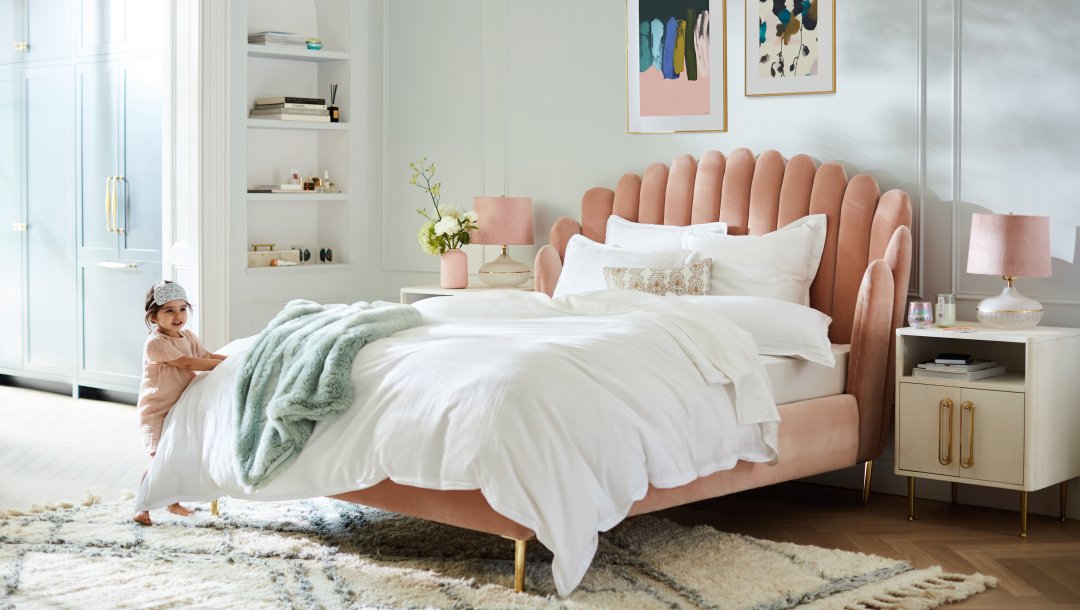 Pulitzer Prize-winner Edith Wharton preferred to write in the morning while still in bed, accompanied by her beloved dog and free from her dreaded corset. After suffering a debilitating traffic accident, Frida Kahlo designed specialised easels that would allow her to paint while she reclined. And Yoko Ono and John Lennon famously campaigned for peace from their bed at the Amsterdam Hilton, protesting the Vietnam War while clad in pyjamas and surrounded by flowers.
Whether you're an artist or a daydreamer, in need of a cosy workspace or a place to rest, there's nothing quite like your bed to refresh and inspire.
"Your bed should be restful, inviting, and personal," says Anne White, Anthropologie's Home Stylist. "You want your bedding to reflect who you are and what makes you feel relaxed."
Here, Anne shares her small bedroom ideas and how to assemble the perfect sanctuary, Anthropologie-style.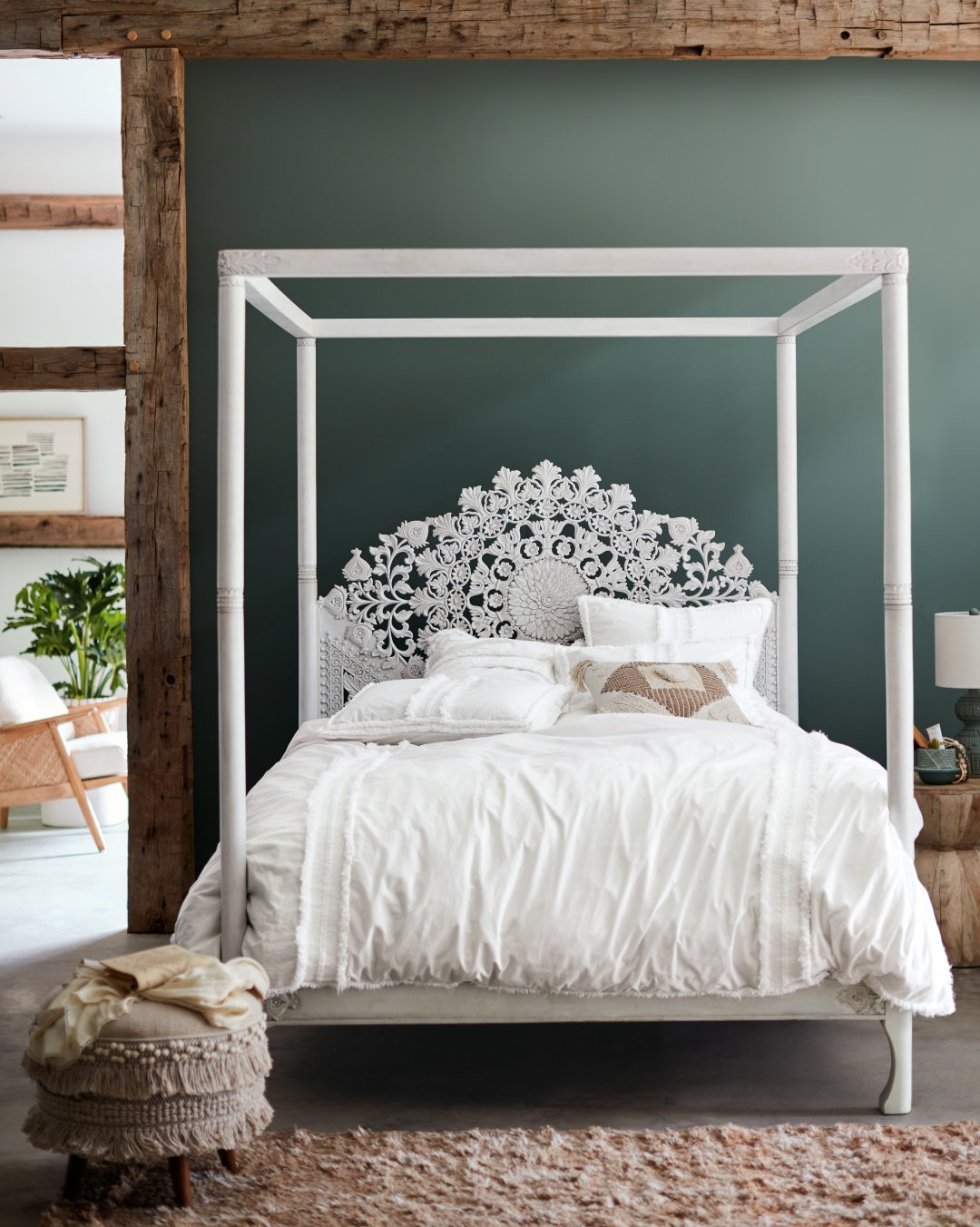 Start with the Sheets
First things first: Every good bed begins with a good set of sheets.
"A great set of sheets goes a long way," says Anne. "Are they as fun to pick out as a beautiful new duvet? No, but they're the linens you'll be sleeping between, so it's really the best place to splurge."
Don't obsess over thread count, Anne advises. This measurement—which refers to the number of threads woven into a single square inch—is used to gauge the smoothness of fabrics, but it can be deceiving. High-quality Egyptian or Pima cotton sheets in a lower thread count will feel far more luxurious than a cheaper cotton that boasts more threads.
Although some bedding revolutionaries have recently made the case for doing away with the top sheet, this is one bedding "rule" we're standing firmly behind.
"Some things don't change—you need a top sheet," says Anne. "Everyone needs a top sheet."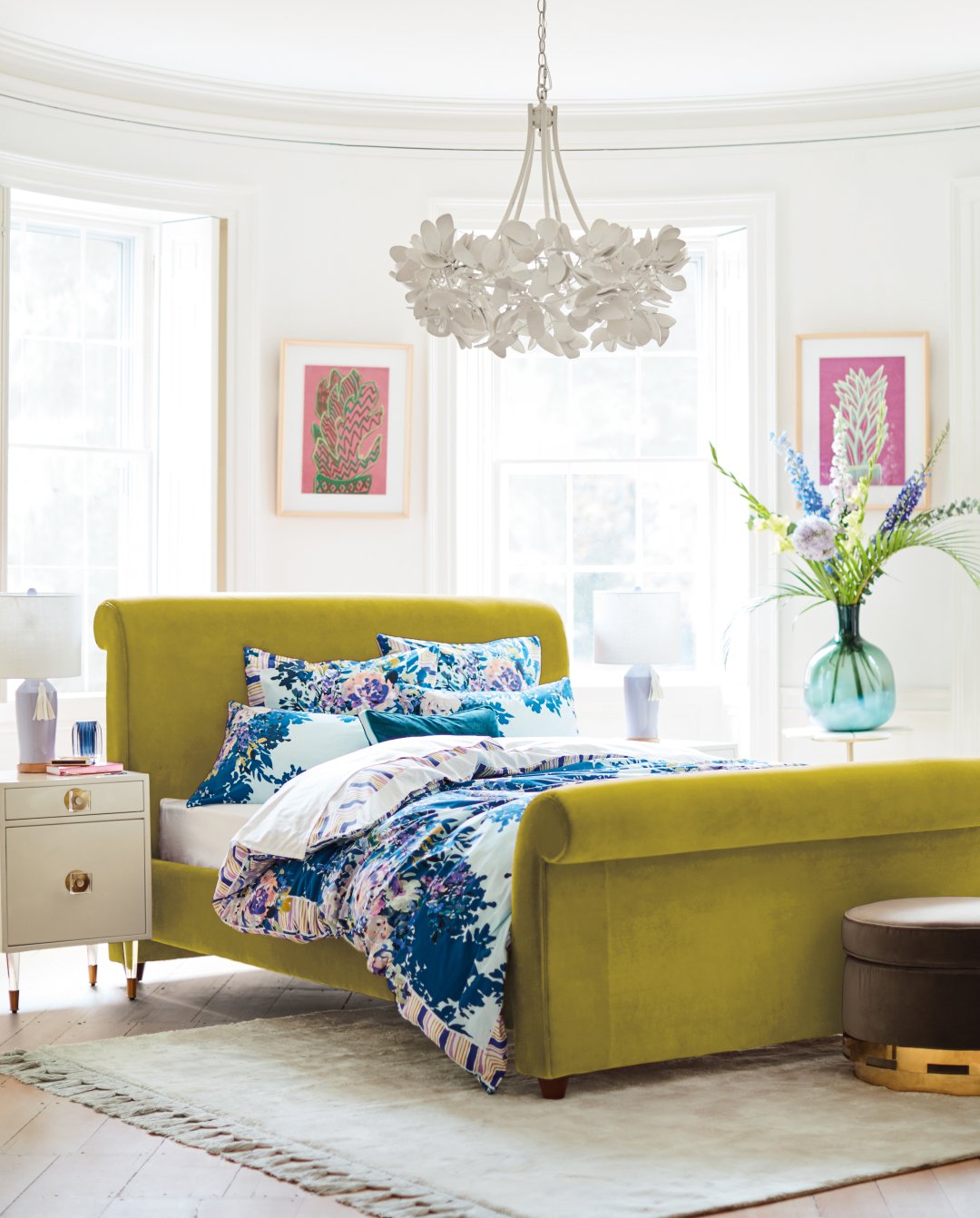 Consider Colour
In the 1990s, the Westin Hotel introduced its signature "Heavenly Bed." The white-on-white-on-white set-up became the standard for hotel bedding, and for many of us, defined how the "ideal" bed should appear.
While it's a perfectly fine look, the reasoning behind the monotone approach was rooted more in practicality than personality: White bedding is easy to bleach, easy to reorder, and easy to match.
For your own bed, consider adding a little—or a lot—of colour.  "A colourful trim or a bright pop of embroidery can go a long way in adding a personal touch to your bedding," says Anne.
For a bolder look, consider mixing prints and patterns. When done correctly, layered motifs can be just as sophisticated and serene as an all-white palette: The key is to vary the scale. "If your sheets have a small, delicate print, contrast that with a duvet in a larger, bolder motif," advises Anne. "That way they complement each other instead of compete for attention."
One pattern pitfall to avoid? Too much matching. "You want to mix more than match," says Anne. "A print that carries over throughout the entire bed will look dated."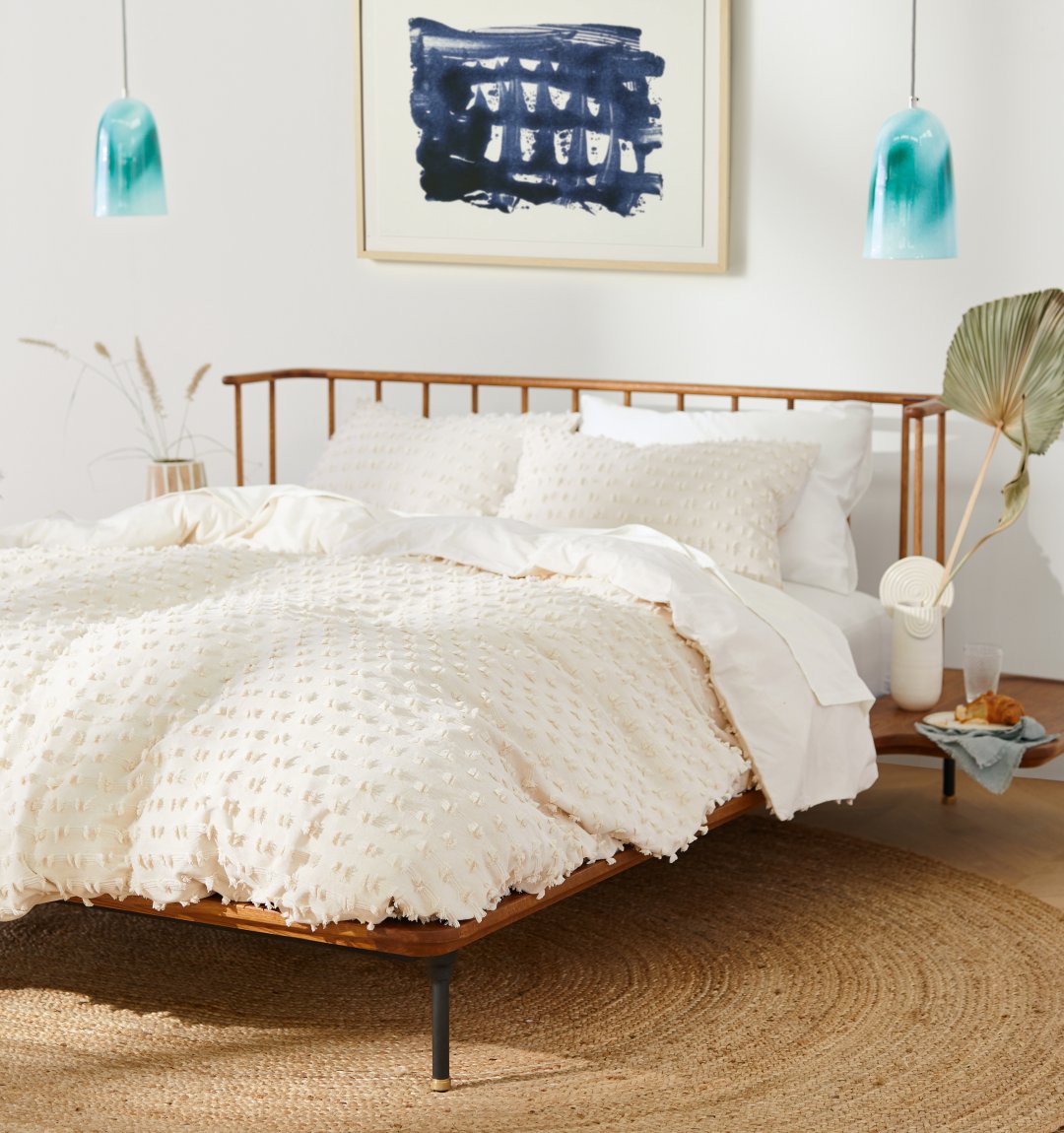 Layer on Texture
Regardless of your chosen colour palette, texture is a must. Even an all-white bed warms right up with embroidered shams and a fringed coverlet.
"Texture adds a softness and cosiness to a space," says Anne. "If there's anywhere you want texture, it's on your bed."
In addition to your bedding, consider the headboard. A rich velvet, carved wood, or tufted linen backdrop can truly make the bed.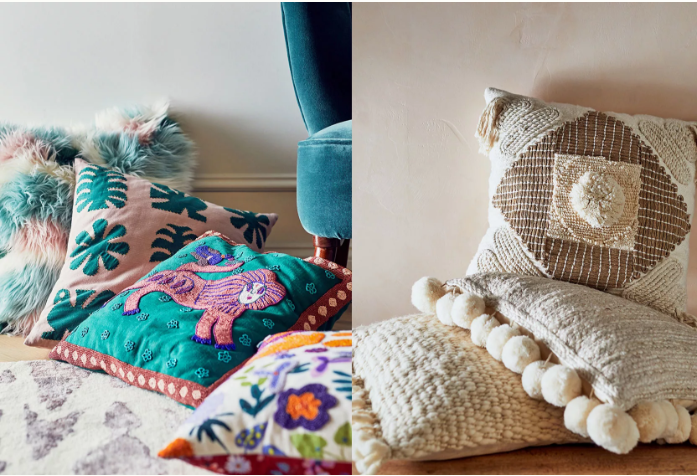 Pillow Talk
The average person sleeps with 2.2 pillows. For an ideal setup, Anne advises having at least three pillows on a smaller bed, but no more than six regardless of the size—you want everyone to be comfortable, but the look should never be cluttered.
"There's something fun about a bed stuffed with pillows, but you have to be practical," says Anne. "There should be room for you to sleep."
If you prefer to stage your bed with more pillows than you'll likely use, consider a bedside basket to place them in at night.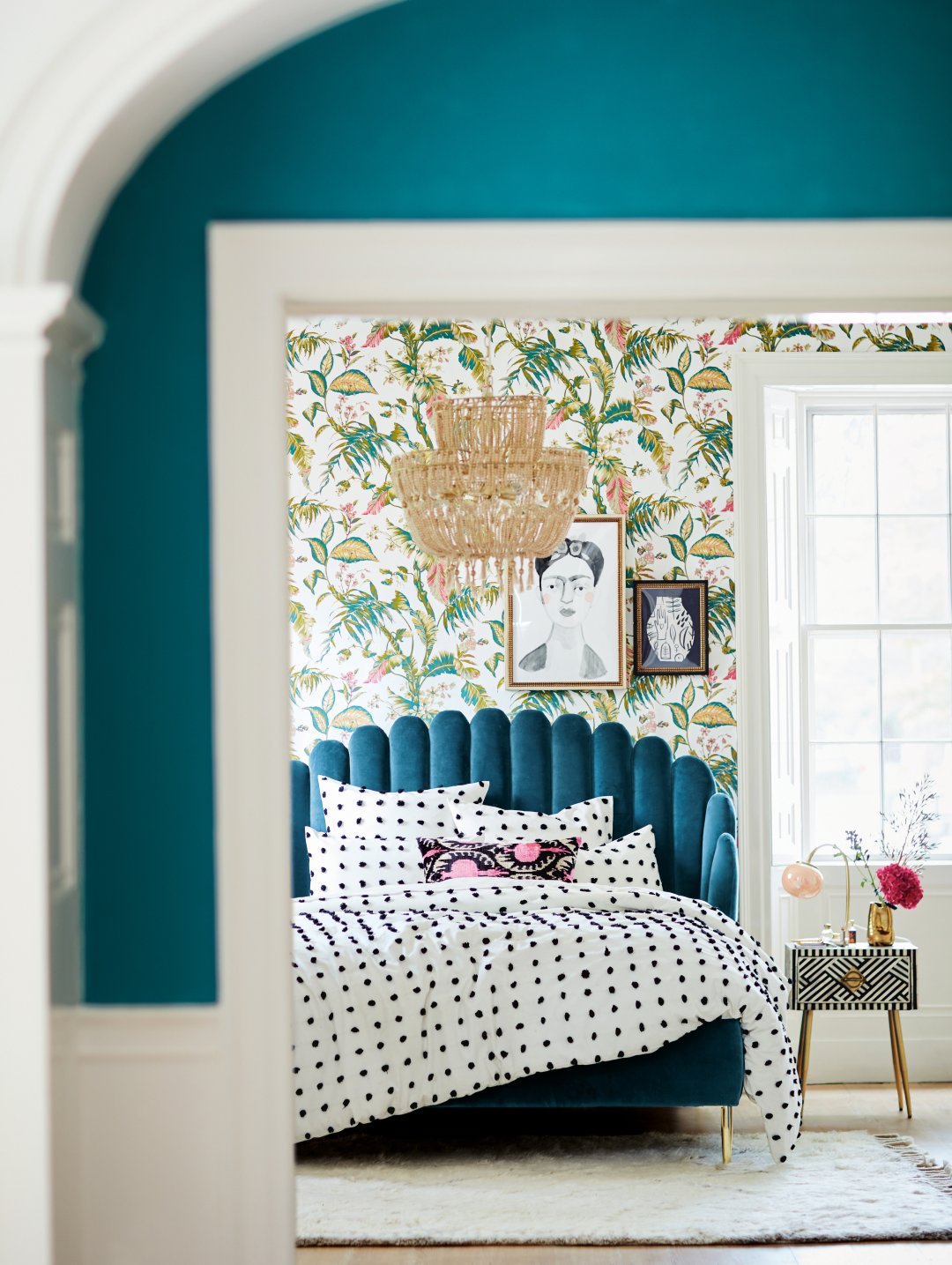 'Unmake' Your Bed
Ever wanted to crawl into the beds in our home books? We'll let you in on our stylists' secret: After you make your bed, simply "unmake" it a bit.
Pull the duvet down one-third of the way on one side, set the pillows slightly askew, and rumple a throw at the foot of the bed. This slightly undone look has a way of making your bed even more inviting.
To keep things luxurious, make sure your duvet is big enough to drape. If you have a queen bed, consider a king-sized duvet filled with an oversized king insert—there will be plenty of fluff to go around.
"Your bed," says Anne, "should be almost irresistible."
From throws to pillows, find everything you need to layer up your bed here.
Words by Monica Weymouth