Plates piled high with pumpkin-spiced treats. The smell of cinnamon. Bellyfuls of warm caramelised apples. One of the best things about this time of year has got to be autumn's desserts.
Dani Tucker from The Social Kitchen has combined two of our favourite seasonal flavours, caramel and cinnamon, with our all-time favourite treat: cake. Yes, it's as good as it sounds—lovely layers of caramelised apple filling and crunchy hazelnuts, on a fluffy cinnamon-spiced base.
Gather your ingredients and bakeware and let Dani show you how it's done in seven easy steps.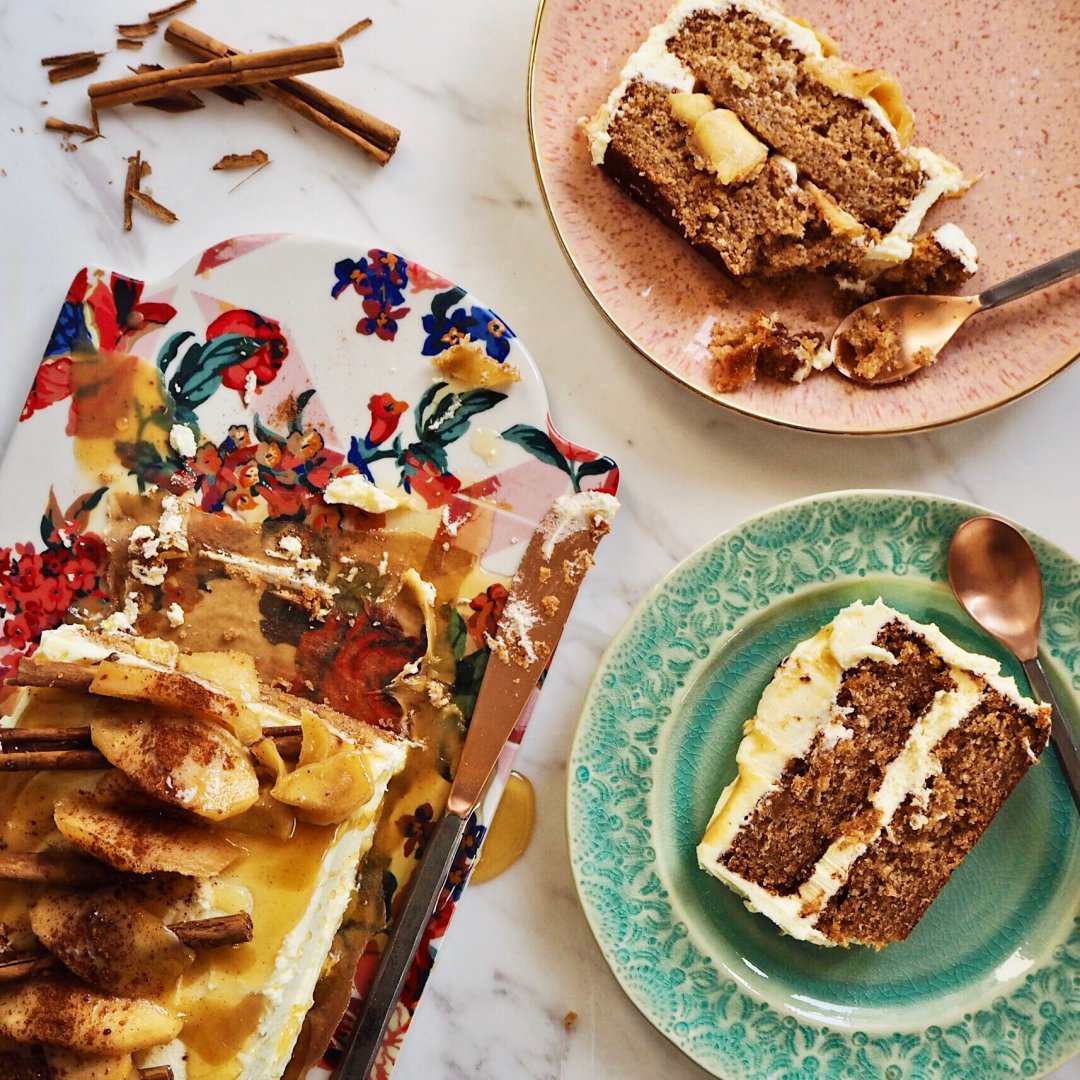 What you'll need
2 cake tins
Electric mixer
Crushed hazelnuts (for decoration)
For the apple purée
4 apples (Pink Lady or Cox)
50g light brown sugar
50g caster sugar
200ml water
1 teaspoon of vanilla paste
For the cake batter
250g unsalted butter
250g caster sugar
3 large eggs
300g self-raising flour
1 teaspoon of baking powder
2 teaspoons of cinnamon
1 teaspoon of allspice
Pinch of salt
1 teaspoon of vanilla paste
For the icing
150g butter
200g icing sugar
1 teaspoon of vanilla paste
For the filling
4 apples (medium sized)
100g butter
100g brown sugar
2 cups of double cream
1 teaspoon of cinnamon
How it's made
Preheat your oven to at 180°C/350°F/Gas Mark 4 and start making the apple purée, as it needs to cool before it's folded into the cake mixture. Peel, core and chop the apples into small pieces and place them into a pot with 200ml of water, 1 teaspoon vanilla paste, 50g light brown sugar and 50g caster sugar. Cook on a medium-high heat for 10-15 minutes, stirring frequently and adding more water if necessary. If it hasn't boiled into a purée you can use a hand masher or electric blender to help it along. Set the mixture aside and allow to cool completely. If you want to skip this step, shop-bought apple purée is absolutely fine.
Move on to the cake batter. In a large bowl, mix 250g of unsalted butter and 250g caster sugar until light and fluffy. Add in one egg at a time and combine. Then mix in the cooled apple puree. Sift all the dry ingredients into another bowl and add to the wet mixture in stages.
Divide the mixture equally among the 2 cake tins and bake at 180°C/350°F/Gas Mark 4 for 30 minutes. To check if the cakes are done, stick a toothpick into the top of each cake, if the pick comes out clean, your cakes are ready!
Leave the cakes in the tins to cool for at least 15 minutes. Then carefully turn them out onto a rack to cool down completely.
Now it's time to move onto the icing and filling. To make the caramel cinnamon apple filling, melt 100g of butter in a pan over a medium heat. Add the 100g of brown sugar and stir until the sugar begins to melt. Then add the chopped apples. Sautee for around 10 minutes or until the apples are brown and soft. Lower the heat and allow it to simmer, then add the cream and leave on the heat for about 2 minutes, until the sauce thickens.
To make the vanilla buttercream icing, combine the 200g of icing sugar and 150g of butter with an electric mixer until it's whipped and smooth. Add the vanilla paste and mix well.
To assemble, place the first layer of the cake on a serving plate. With either a piping bag or a spatula, spread a layer of icing over the top. Lay the caramel and cinnamon apple filling over the icing and then add the next layer of the cake on top. Cover the second layer of the cake in icing and caramelised apples as you did before. Drizzle any extra sauce from the apples over the top and sprinkle with crushed hazelnuts for decoration.
For more sweet treats, tuck into our blog's Create page.