Les Petits Macarons: Colorful French Confections to Make at Home
Les Petits Macarons: Colorful French Confections to Make at Home
null
Rated

5

out of

5

 by

3

reviewers.
Rated

5

out of

5
 by
JACornelius
Everything About Macarons...
key points- - with well over 200 pages, you're sure to find your favorite here - easy to follow recipes from basic to gourmet complex - includes list of vendors where you can buy some hard to find ingredients, including food chains like whole foods and trader joes. -great illustrations of what a Macaron should and should not look like - with tips on how to remedy Macarons gone wrong, like too much flour looks like this, temp too high looks like this, try this... my kinda book!
November 21, 2011
Rated

5

out of

5
 by
burberryeyeglasses
Amazing, but..
This book is great. The instructions are very thorough and includes photos. The beginning of the book explains in detail everything you need to know about the ingredients and why they are chosen and why they are important. Options are given for the base recipe so you can choose the one that fits your taste. The flavor combination possibilities are endless and wonderful suggestions are given (in case you aren't sure what to do with a wasabi flavored macaron). My only complaint is the descriptions will reference different recipes that include page numbers, only the page numbers aren't there and instead say '000'. Clearly they were meant to be place holders for when the book was in proper order and the page numbers were sorted out, but the proper numbers were never put in. It's a small flaw, but I find it kind of annoying to constantly be flipping through to find a recipe.
February 22, 2013
Rated

5

out of

5
 by
Rachaeldoll
Delicious and Beautiful
My friend purchased this book for me as a birthday present. We're in love with French Macarons!! This book is beautifully written and has gorgeous photos as well. Every aspect of making the macarons is detailed and mapped out to at t! The author really fool proofs macron baking! I read the whole book but I haven't actually made any yet, because it does seem like a lengthy process. However, I eagerly await a free Saturday to open up this book and create some tasty confections.
November 13, 2011
BLACK
Hardcover
270 pages
The Perseus Books Group
Style #:23810484
Melt-in-your-mouth macarons are only a few pages away with pastry chefs Anne E. McBride and Kathryn Gordon's richly hued and detailed guide. Hugely popular, this French confection is demystified for everyone, from home bakers to pastry chef extraordinaires. Dozens of flavor combinations, three basic methods and a never-seen-before Easiest French Macaron method make it easier than ever to whip up your customized versions of these airy, decadent creations with nary more than a mixer, oven and a humble piping bag. Tested by students and teachers alike, you'll bring French sweetness to anyone lucky enough to catch a taste.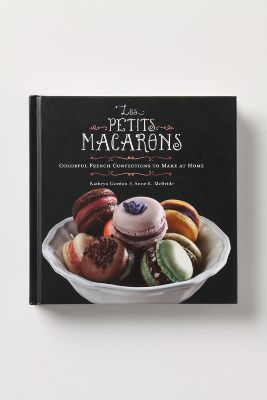 -->