The Ship Song, 2008
ASSORTED
Gerry Wedd's handpainted adornments, including detailed pictures and inscriptions, give this classic teapot an unusual edge.
For decorative use only
One of a kind
Porcelain
5.5"H, 4" diameter
Australia
This item will ship via UPS Ground and is only available for delivery within the continental United States. Shipment to international locations, U.S. territories, AK, HI, P.O. boxes, APO/FPO addresses and express ship methods are unavailable for this item.
Style #:070003
Gerry Wedd, a native of Port Noarlunga, studied jewelry making, painting, drawing and ceramics at the University of South Australia. Formerly a designer at surf wear company Mambo Graphics, Gerry has exhibited both nationally and internationally. His award-winning work-rooted in the traditional approach of English potters such as the Martin Brothers-is currently on display at the Australian National Gallery, Manly City Art Gallery, Gold Coast City Gallery and the Melbourne Maritime Museum, among others.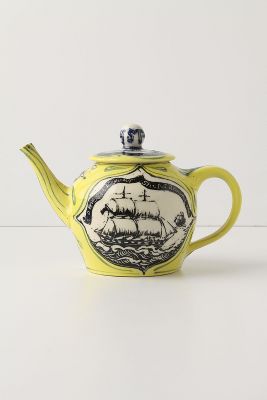 -->