Category Null
Glass Bubble Doorknob
null
Rated

2.9

out of

5

 by

16

reviewers.
Rated

1

out of

5
 by
allisonpickle
I give up
I'm very handy and I give up. I remodeled a kitchen on my own and I can't get these doorknobs to work correctly. After buying the recommended hardware, you still need MORE SCREWS. The screw holes weren't straight in mine, so I couldn't get the screws in without cross threading them, and they the doorknobs came unscrewed from the spindles so readily I was tightening them once every 3 days. They don't fit in the pre-bored holes in modern doors. I gave up and returned them about a month after installing them. Luckily I wasn't given a hard time about the return. I was very disappointed with these doorknobs.
August 18, 2011
Rated

3

out of

5
 by
homebuddy
bueatiful - but what a project!
We got several knobs for a remodel of our home. The knobs are beautiful - but don't think you can simply swap these onto a standard door. Here's what we had to do to make these work. First - we had to order custom doors with specially cut "antique" style holes for the handle. this is basically a 1/2" hole with a connecting shaft through to the frame. Second - you'll need a "standard tubular back set conversion latch" that will fit a square spindle. We got some from "house of antique hardware" online for about $10 each. Lastly, the square spindle that comes with the knob is too short for a standard door width. You will need to get one that is about 1/2" longer to get the knobs to securely attach. This knob needed a course thread. We got ours from Weeks in Portland Oregon for about $8. So all in all, our new knobs cost us: Custom Door slab: $60, retro latch kit: $10, longer square spindle: $8. And be careful not to strip the set screws. It's easy to do. Now that's it's done, we do love the look - but it was a project to get there! Hope this is helpful!
November 18, 2009
Rated

3

out of

5
 by
FordPrefect
How to actually use these pretty doorknobs
These doorknobs are gorgeous, but they don't play nice with many modern doors. Modern doors have a bigger hole around where the rosette plate goes, so there's nowhere to screw these rosettes in. Also, these knobs come with NO HARDWARE at all (no screws, no latch), and your existing modern latches will not fit the older square spindle in these glass knobs. If you have modern hollow doors, here's what you'll need to make these work for you. I've included links to buy the items, since they can be hard to find: 1. retro door latch guts (http://houseofantiquehardware.com/s.nl/it.A/id.626/.f?sc=10&category=16) 2. door "bore insert" to have something to screw the rosette into (http://www.rejuvenation.com/fixshow5845/templates/selection.phtml) 3. screws (I bought 1/2 inch #5 flathead wood screws in a satin nickel finish at Ace Hardware. They're like 27 cents apiece. Not worth paying for shipping on these, just buy them in person.) Does that sound like a huge pain in the butt? Yes, it is. So unless you live in an old house or are willing to put in a few hours of handyman time, these are not the knobs for you. I love them, personally.
August 6, 2011
CLEAR
Tighten with care
Hardware required
Glass, brass
2.25" diameter
3.25" projection
2.25" spindle
Imported
Style #:870067
Effervescent knobs of smooth, colorful glass reach their boiling point.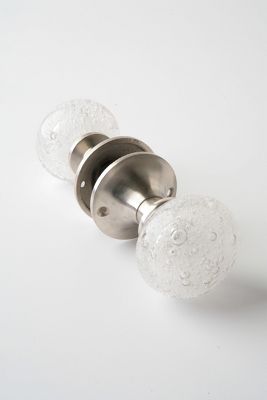 -->