Category Null
Arrosa Quilt
null
Rated

3.9

out of

5

 by

38

reviewers.
Rated

1

out of

5
 by
Orchid0330
What the?? F rating.
First, I'm very disappointed in this blanket. This blanket is so cheaply made. The stitching looks like it was hand done by someone who didn't bother with a machine. And the borders are done by a machine, but all the stitching within looks like the person who done this did it in 15 min. I...I...can stitch better by hand with care and attentiveness. Like this is done by a person who is learning to sew. I sewed like this when I was 8. The design of the print is nice, and that took skill. The cotton within is a thick slab of cotton that probably could have been bought for less than $10. It's dry clean only because of the poor construction of this blanket. The material of the outside is a cheap thin gauze sheet that was sewn together with this cheap cotton in between. The design and idea of this blanket was great. But the actual production was cheap and just dishonors the artist who designed this. The stitching... A Quilt has within an inch line, many stitches in between, but this "quilt" has one stitching per hand length. Like the stitcher thought, "what is the least amount of stitching I can do to just nearly make this piece stay together?" This is dry clean only, why? Because of its delicacy. Y is it delicate? Because its horribly made. I could have taken a stapler to it and did a better job. I'm so mad. And to top it off, it didn't come with a return smart label and the plastic was ripped. Wow, last time I'm buying anything from anthrolopgie. Sad.
November 29, 2012
Rated

5

out of

5
 by
colorsfillthesky
Euro sham is the PERFECT accent
I saw this online today while at work and called my local Anthro to see if they had the Euro sham in stock--they did. I have all white/gray bedding and after ordering a really disappointing Euro sham from Pottery Barn I was hoping *this* sham would be the one. It was! It's gorgeous, true to life colors and just completes my bed. You will love this bedding whether you get the whole set or just one accent piece!
July 12, 2012
Rated

1

out of

5
 by
KReed
Filler Clumps even though Dry Cleaned
So I was extremely pleased with the size and the "first look" of the quality, but when I got it back after being dry cleaned I was shocked! After ONE Dry Cleaning session the filler inside the quilt was clumped up. It was no longer smooth and comfy. It is clumpy!!!! Now this isn't noticeable when it is on your bed, but when you snuggle in it you can feel the CLUMPS of the filling! Especially on the corners. It is basically two pieces of sewn material and then a big clump in the corner. Now, if I had paid $40 for it I would have expected this. But not for the very expensive price!!!!! Ridiculous and I will never purchase any Quilts and possibly any bedding from Anthropologie EVER!
September 16, 2012
MULTI
Cotton
Dry clean
Imported
Style #:24318800
Big-bold blooms and smatterings of polka dots create graphic contrast on fluffy, stitched voile.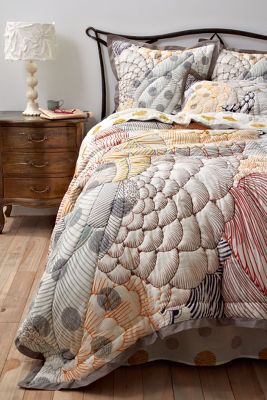 -->